Our Story
We met 13 years ago at a mutual friend's destination wedding in Mexico. The bride-to-be rearranged the seating chart for us to sit together after Sara scoped Joel out in a prewedding picture book. The photo was Joel hanging out of a helicopter, bicep flexed, shooting video, and it gave Sara much to admire! Sara was eager to finally meet this handsome man and was prepared to primp in front of the mirror and choose just the right outfit before the big introduction. However, the morning of the rehearsal Sara went down to grab some breakfast, un-showered, no make-up, and there was Joel! Our conversation was easy and we quickly discovered we both grew up similarly and shared the same values. After returning back home, we began dating and we've been together ever since! We laugh now that it took two Iowa kids, who grew up only three hours apart, a trip to Mexico and nearly 20 years to meet! We have a strong relationship based on love, trust, and respect for one another. Together we love to travel and spend time with our son.

Isaac is our 5-year-old son whom we adopted as a baby. We have an open relationship with his birth mother and father and we are in annual contact with them, sending pictures and updates. We have an active email address, so his birth parents are able to check in, if they feel the need to during the year. This has worked well for us and we've benefited from being able to ask the occasional health question of Isaac's birth parents. Even though we live in different parts of the country, we've also been able to visit a couple times since Isaac was born. We are so grateful to have Isaac in our lives; he is truly a blessing. Isaac loves everything trains, planes, and construction vehicles, and is very good at sports! Lately, he's really been into mini golf (he made his first hole-in-one the other day)! When we bring up the possibility of another sibling someday, Isaac is very excited. He will be a great big brother!


Our Home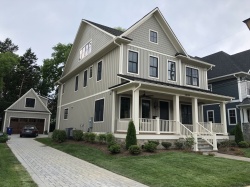 Our home in Virginia!