Our Story
Hi, this is Ra and Ayano. We are water-loving "Fire Dragons" living in Coastal VA. Ayano is Japanese. Ra is African-American. We have a lot of love to give and are hoping to adopt The One.

We met in December, 2014. Early on in our partnership, we defined our core values as: Adventure, Deep Connection, and Family. Our motto is, 'Love is strength!' We cherish these so much that we had them inscribed on our wedding rings. As we envisioned, we have been sharing many adventures, cultivating our understanding of each other, and nurturing our relationships with friends and family. Recently, we have added 'Love transcends' to our motto. Through our experiences, we've learned love really does transcend any differences, limitations, and obstacles. It really touches our hearts when we experience or witness it.

In February, 2016, we both said "I do" to the commitment to each other and the companionship in life. We love the life we have been building together in Virginia. Both of us are working remotely at home, and when the wind is good, we go kiteboarding in our neighborhood or drive a few hours south to North Carolina. Other times, we bicycle, hike, stroll on a beach, or just chillax at home. We enjoy listening to good tunes, watching movies and Formula 1 races, and having interesting conversations.
Our Home
We live in a three-bedroom house in Coastal Virginia. Our friends and family say our house feels open and relaxing like a beach house. We are happy to hear that because we are going for a beach house/forest cafe feeling and it seems like it's working.

We both work remotely at home and we turned the spacious sunroom into the office. We also have a meditation room where we meditate, do yoga and exercise, and sometime just lay around watching the clouds pass by the moon at night. We have an expanding collection of artwork displayed throughout the house, including Ayano's amazing watercolor pieces. And to keep it fun and youthful, we have a collection of Funko POP! figures guarding over us in the entryway and living room.

Our fenced backyard has plenty of space to play, run around, and garden. We have a sitting swing where we enjoy feeling the sun, listening to birds, watching butterflies, taking naps, and sometimes having a nice meal. We look forward to eventually building a deck for cooking out. This year, we have taken to having breakfast on the front porch or just chill there when neighbors stop by. We planted roses in front of the house after we moved into the house and we enjoy taking care of them. Ayano often cuts the blooms and puts them on display at the kitchen table. We love nature and we try to have a piece of it everywhere.

Our neighborhood is surrounded by water and we fully take advantage of the gorgeous landscape by strolling on the local beaches, bicycling around, kayaking, and kiteboarding, and watching the sunset from the public boat dock at the end of our street. Overall, it's a laid-back little beach-town atmosphere and it's nice to feel like we're living in a beach house every day.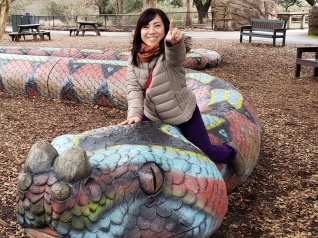 WHAT RA LOVES ABOUT AYANO AND WHY SHE WILL MAKE A GREAT MOTHER...

I love how kind, gentle, and chill Ayano is. She kind of has this bubble around her that just gives you a relaxed vibe when you enter her presence. I think that's why she fits in with my family so easily. Everybody loves her and very much enjoys her company. It's almost like "chill" is her default mode. No, actually it is! We often joke that "comfort is her top priority." That translates into an ambiance that she's primarily designed and fostered in our home. It'll be such a welcoming and peaceful sanctuary to grow up in all thanks to our commitment to seeing her vision realized.

I love how adventurous Ayano is. I mean, she moved to a - whole - other country during her college years to make a life for herself in the United States. It's something I would never have dreamed of doing. I mean, I hadn't even set foot off this rock until after I met her. I've been more places since I met her than all the rest of my life. It's because of her adventurous nature that I started surfing and kiteboarding. We've shared so many memorable moments together. We've seen a few wonderful things this Earth has to offer and we plan on being in total awe of many more. I envision any little one in our care will see many places and do many things and be an advocate for expanding others' experiences.

Ayano is caring, fair, and open-minded. She listens with intent and communicates with honesty and compassion. Sometimes it really chokes me up just reflecting on how genuine a person Ayano is. I never have any doubt about who or how she is because she is always herself. As loving and honest as she is, she has no need to be anyone else. And I think that's what I love about her most. I can absolutely trust her to be her. She is always a very dependable and trustworthy confidant, guide, and cheerleader to me, her closest friends, and family. I know she will be the same for any child in her care.

When Ayano commits to something she is all in and keeps us moving forward and focused on the goal until it's done. "Always forward. Forward always." It's a motto we picked up from Luke Cage (the Marvel comic book character) and we use it to keep each other engaged and progressing towards long-range goals. Buying a house, traveling to distant places, working through the home study process to get approved for adopting a child; these are all things that take many days/nights and lots of effort to complete. Thanks to Ayano's resolve to keep moving forward, we (as a team) got them all done.

It's always amazing to see Ayano hanging out with children. I don't know who is happier, the kid, Ayano, or me observing them together. Whether it's her nephew, my little cousins, or kids of our friends, I get to glimpse how the world should be whenever they're in Ayano's presence. That same chill, adventurous, accepting, and young-at-heart presence that I mentioned before is so inviting that kids really seem to seek her out and really enjoy being around her. It'll be the greatest joy in my life to see a child evolve while living within Ayano's aura.

WHAT AYANO LOVES ABOUT RA AND WHY RA WILL MAKE A GREAT FATHER

Ra is full of love. He has an open heart and his love is genuine, abundant and real. I had heard or watched movies about 'Love is strength' and ever since I got together with him, I have been experiencing it and feeling, "Wow, it really is true!" He listens to you with a full heart, understands what you need, and supports you accordingly. He doesn't just give you advice on what he thinks is right. Listening from your heart and understanding what the person is actually going through enables you to give the right words and actions at the right time. He does just that, which takes a lot of love, compassion, patience, and wisdom. With his warm presence and understanding, I feel that my ground is solid to face whatever comes and I feel stronger and more courageous. I realized that Love indeed becomes your strength.

Ra's presence is like autumn sunlight: it provides you the perfect warmth, fills the space with bright light that feels gentle on your skin, and makes you feel open and relaxed. In everyday life, Ra is light, excited and fun; he sings and dances around, making me laugh all the time. He sees light in things and people, and doesn't hesitate to pour his love and compliments into you. With him, I can easily imagine that our family life with a little one will be full of love and laughter!

Ra is a self-made man. He grew up in the countryside of Virginia where not many opportunities were presented to him. He taught himself how to program and manage databases and established a very successful career in that discipline. He has a strict work ethic and sharp focus, and on top of that, his unique thought process distinguishes him from others and makes him such a "rock star" in his field. There never was an easy "paved road" for him, so he has been creating his own path. That's why he is not afraid to be different from everyone else; he has a solid foundation within himself and believes in his own capability. I really admire him for it, and I think the child will naturally learn to be their authentic self, and have the courage to create their own path from seeing how Ra operates his own life.

Ra has a strong sense of responsibility and has a protective nature, which makes me feel safe and secure, and I'm sure the little one will feel the same. He is like a big tree deeply rooted in the Earth that gives you protection against beaming sunlight or pouring rain, providing you with sweet fruits, and when you hug it (I am such a tree hugger), it (he) gives you comfort and calmness.

Ra has a big family and when we go to a family BBQ, there are a lot of young ones running around. He is always very attentive, and when he is asked questions or kids need help, he always listens sincerely and answers them or helps them with detailed care. Ra told me that ever since he was young, he had this feeling that he would adopt a child. He has this keen intuition and often guides us in the right direction - sometime far ahead. I trust his sense and it's amazing that, decades later, we are on the path that he envisioned in his youth!

Ra is my 'Shinnyuu' (親友:best friend), partner of adventures, and companion. He is the love of my life. I feel blessed that he is in my life. He is a very loving, open, intelligent, fun, trustworthy person, and I know as wonderful a partner he is to me, he will be a wonderful dad to the child!