Our Story
Surya and Roja met online and began dating. They dated for 1 year, were engaged for 12 months and were married on 08/03/12 in Hyderbad, Telangana, India. Their marriage certificate Number is 60012012. Surya and Roja both express great satisfaction in their marriage. They communicate well, listen to what the other has to say, support each other's ideas and opinions, and respect, trust and love each other. They also have fun and enjoy a healthy and active lifestyle together. They like to be involved in activities such as hiking, watching movies and entertaining and spending time with their family and friends.

Surya and Roja are able to talk about their personal feelings with each other and feel that this is an important part of their successful marriage. Most conflicts are resolved with a discussion about each other's views on the situation and a compromise when needed. Big decisions are made together and little ones are made individually keeping each other's perspective in mind.

Surya and Roja believe they have a solid foundation for marriage and parenthood. They work well as a team, are aware of each other's positive and negative traits, strengths and weaknesses. They have developed a complementary relationship, divided up their responsibilities, defined their roles accordingly, are flexible and have a good sense of humor. They both feel they have a strong and happy marriage and believe having another child would greatly add to their family.
Our Home
Surya and Roja own a nicely decorated 1-story, 1,200 square foot house, constructed of wood and located in the well-established, family oriented town of San Jose, California. It has 3 bedrooms and 2 bathrooms, a living room, dining room and kitchen. It has a 2-car garage. They have no pool or spa. They do not own firearms. They keep their home clean and neat. There is plenty of room for their children's clothes, books and toys. Their home is safe and secure and more than adequate for rearing children.
Roja Ramani Chandanala is the 4th child to her mom and dad. She grew up with 2 sisters and 2 brothers in Bellampalli, a small town in Telangana, India. All her siblings went to the same school. They were all in good health and good at studies.

Her dad lost his mom when he was 4 years old and his step mom was not very supportive of him. Because of that, he had to work really hard when they were young. By the time Roja was 5, her dad was more financially stable. He owned a store and they used to go help him as needed after school hours.

After 10th grade, Roja went to a college in Hyderabad. She lived with friends in a hostel. Her sisters were in different hostels close to their work and colleges. She got her undergraduate degree in Computer Science from NITW. She was in good health. Her parents and siblings used to visit her every 1-2 weeks.

After her graduation, Roja worked with AMDOCS in Pune for 2 years while preparing for GRE & Toefl. She stayed with her brother when they moved to Pune for almost 1 year during this time. She came to the USA to pursue a masters from TAMU, College Station. She graduated from TAMU in 2010 with a masters degree in Computer Science. After which she got recruited into Amazon in Seattle. She was with them for 3 years. She met Surya online. They dated for 1 year before getting married in 2012. They moved to California.

Roja got pregnant with Srihan in 2014. They bought their first house. She moved to Google to be closer to their home. Because of Preeclampsia, Srihan had to be delivered at 30 weeks gestational. He was in NICU for about 2 months. There were no major complications but he was diagnosed with autism at 1.5 years old. They always felt that his behaviors are very minor since he has always been a happy and welcoming kid. However, they just got started with the early intervention to give him extra support. He is 5 years old now and goes to a regular private school full-time and is one of the best students in the class. Roja is excited about the prospects of adopting a child and expanding their family!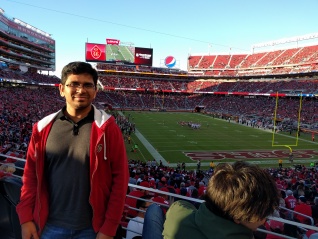 Surya Prakash Cheruku is the first child to his dad and and mom and has a younger sister. His mother died when he was 5 years old. His father died when he was 7 years old. Maternal grandparents in a small town called Nakrekal raised him and his sister. His maternal uncle and aunt supported his grandparents to raise them. Both of them went to the same school. They received good care and love from his grandparents.

Both he and his sister lived with their maternal grandparents and they went to the same school. Surya completed his +10 in 1996, and finished the +12 in 1998 from a college in Guntur. Following that, Surya joined B.Tech for the undergrad in the JNTU Hyderabad. He received a scholarship for being an exceptional student.

After completing graduation, Surya worked in India for a couple of years and came to the US in 2006 to pursue a Masters with his uncle and sister's help. He completed his Masters from Texas A&M University in 2008. After which he worked for multiple companies as a contractor in different cities like LA, Chicago, and Phoenix. He met Roja online and dated for around 1 year.

They got married in 2012. They moved to California and bought their first house in 2014. Surya became father to Srihan in October 2014. He was born at 30 weeks and was in NICU for 8 weeks. Though he was healthy, he had developmental delays. At the age of 1.5 years he was diagnosed with autism. With the early intervention and other therapies he improved a lot and he rarely shows minor behaviors. He is good with his academics and goes to full time regular school. Surya is excited about the prospects of adopting.