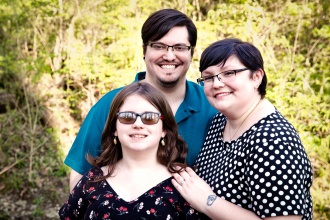 Our Story
We met online and on our first date it felt like we had known each other our
whole lives. We got married a year and a half later, and Mandy's house became a home when Mike and his daughter
Elaina moved in. Elaina is an awesome 12-year-old and lives with us every weekend and on alternating holidays.
We are a fun bunch of nerds that love sharing our interests with each other. We are always looking for something new to experience; as a result, we go to different cultural events in the area like watching Celtic dancing or middle eastern food tasting. We have both lived in other countries - Mike in Afghanistan during his time in the military and Mandy in Spain for her undergraduate degree. We enjoy learning about other cultures and Mandy loves learning languages (she's fluent in Spanish, and somewhat conversational in French). We hope to raise our future child to be curious and open to whomever or whatever they meet in life.
Our Home
Our home is a renovated three-bedroom, one-bathroom house on a quiet street. The outside of our house is gorgeous year-round! Our magnolia and pear tree have beautiful
flowers in the spring, and the rose of Sharon bushes bloom in the summer. We have a fenced in backyard, and we get to see our neighbor's two friendly dogs in the yard next
door. Our neighborhood is often full of children playing hide and seek or riding their bikes together. We are within walking distance of a new park and a grocery store, and all the local schools are a 5-minute drive away. Mandy is actually a teacher at the local high school!
Mike is a goofy, funloving dad. He didn't find being a chemist challenging enough, so he self-taught himself how to become
a system engineer in the tech field. He now works from home and we converted our third bedroom into his office. In his free time, he loves playing video games or board gaming with his close-knit group of friends. Both of us will enjoy game
nights where all of us will bring our families together for food, fun, and geeking out. He enjoys teaching
his daughter new skills and shares my love of never-ending learning.
His experience with parenting will definitely be helpful with our future child!
Mandy is a fun and loving wife who has been looking forward to starting
a family since before Mike met her. She is very involved with the people in her life. As a high school teacher, she acts as a mentor and counselor and is absolutely tied to those kids' futures. She is always coming up with creative ideas to do things together. She enjoys TV shows and video games, and loves spending time with her stepdaughter.