Our Story
Greg and Amanda Jane knew instantly that they had found their soulmate. It was incredibly clear that they were made for each other when they discovered their beliefs in the power of positivity and faith, and their shared desire for a family that is close, full of love, and supportive of each other's dreams.

Greg was working in California, but traveling back and forth from his home in Florida when they met. After just a few weeks, Greg decided to rent an apartment in Southern California in order to get to know Amanda Jane and her daughter, Phoebe much better. As a surprise, Greg changed his work and travel schedule so that they could spend more time together. Immediately, Greg was enjoying dinners at Amanda Jane's home with her daughter and her parents. Greg learned quickly that this was the right path.

When he got an offer to lead a team in Phoenix, there was no question that Amanda Jane and Phoebe would join him. They began house hunting and did six road trips to find the perfect HOME for their family, along with the best school and welcoming neighborhood. The house they chose is nestled in a mountain preserve with incredible desert landscape views, while the city is a short drive south.

Amanda Jane and Greg are so thrilled to raise Phoebe and Baby together because their relationship was founded on the power of positivity and the faith that they can handle ANYTHING together. What they also know for sure, is that they are ecstatic to become parents to Baby and raise him or her with the same golden rules of love and respect. They choose to enter each day with hugs, kisses,fun and silliness. Their foundation of this faith in each other, their children, and the world allows them to step forward as parents, always and forever in love and able to teach their children that love is vital in all we do, and that we must illustrate our love and compassion, always.
Our Home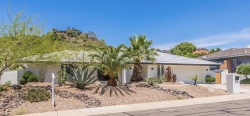 Greg and Amanda Jane knew when they stepped into their home, that it was THEIR HOME! The natural light fills the house and the views of the mountain preserve are right outside the front and back doors. The mountains are majestic and give them immediate access to nature, hiking, biking, camping, and more!

The house has a huge great room where Greg, AJ, and Phoebe have their dance parties! Its the perfect space to get the wiggles out, listen to favorite country and rock music, practice new dance moves, and act silly! Amanda Jane and Greg also have SNUZZLE TIME. This is their version of "snuggle" and "cozy," and they believe each day shall have SNUZZLES as a family. With the sunsets being so incredible in the desert, and the house situated in a most perfect spot, they make sunset watching part of dinnertime. It is ad wonderful to enjoy the radiant oranges and pinks that streak across the mountain and sky with the cacti in the background each evening.They can't wait to include Baby in these family traditions...he or she will love it!

The neighborhood is so diverse and welcoming and was a very important aspect in choosing their home. People of all ages, races, and cultures make their neighborhood great, and a way for Baby to learn about others.

The elementary school is a three minute walk from their home and is a Spanish immersion school. Being able to walk to school is so special and the events offered by the school include music and art, while science and social science are taught completely in Spanish so that the children become fluent.

The church that Greg and Amanda Jane belong to is Christian and is one that is service oriented and community focused. Greg and AJ take classes with other members, and Phoebe is part of the Sunday school children's group. The church will be a beautiful addition to family life for Baby, as there are many other families created by adoption who are also members...they are so excited to meet Baby and welcome him or her to the congregation!
Amanda Jane (AJ) is a mommy, first and foremost. She knew she wanted to be a mother, but had no clue it would be so magical. When Phoebe made her a mommy 7 years ago via adoption at birth, she knew she must embark on that journey again.

The ability to be a loving and caring mommy who teaches by example stems from her life studying the art of dance and the science of the human body. The creativity she has is always utilized when parenting, since no child is precisely the same, and we all learn differently. Her years as an instructor in fitness and the challenges of being a small business owner have taught her to be ready for the unexpected, and to celebrate when plans and dreams come true!

AJ is a dancer, and a lover of all things that involve movement! She has danced since childhood and has been blessed to have had some amazing professional opportunities after graduating from UCLA as a Dance Major and being a cheerleader there, as well. She has performed in dance companies (Nannette Brodie Dance Theatre and The Van Collins Project), for Princess Cruise Lines, which took her to many amazing destinations, and for the Chicago Bulls as a professional cheerleader, plus many others.

Amanda Jane then combined her love of dance with her fascination of the human body and began teaching Pilates, Yoga, Barre, and Gyrotonic. She opened her own fitness studio in 2003 and served her clients there for 10 years. She has been teaching Yoga, Pilates, Barre and more for 25 years and has her own trademark for Barre.

AJ now instructs her clients online only, which allows her to be at home full time for Phoebe and Baby. She gets to show her children how amazing and powerful our bodies are, and that no matter what gender we are, or obstacles we face, we can grow stronger, more flexible, more graceful, and more happy!
Greg has been in a leadership role with his company for many years. He mentors his team members who are seeking his guidance. Greg gives his team a sense of truly belonging to the organization and having a voice that matters and is listened to. Greg's ability to encourage, teach, and inspire make him an incredible parent.

Greg is one of 6 children, raised in South Dakota. He is patient and understanding as an older sibling. His younger life in the Mid West gave him some amazing abilities...he can build anything, and he loves to do it! Greg has mad carpentry skills, can build a computer, and repair any object or piece of furniture.

Greg also loves to bake and people are amazed at his talents. His pineapple upside down cake, banana bread, and sweet potato biscuits are just a few of his perfect dishes. He teaches Phoebe and is ready to teach Baby how to mix, measure, and TASTE the final product.

Greg has traveled and worked in many locations, which makes him even more compassionate and eager to help. He is excited to share this passion for new and different places and people to Baby, as he already does so for AJ and Phoebe.

Hiking and cycling are activities that Greg loves. Living in a mountain preserve allows him the time and inspiration to head outside, get sweaty, and enjoy the scenery.

Greg also works from home full time. His schedule allows him to be involved with the daily aspects of Baby's development and milestones. He gets to have snuzzle breaks in the middle of the day and jump in the pool to enjoy the glorious sunshine with AJ, Phoebe, and Baby.