Our Story
We are a silly fun loving family! Adoption is a huge part of our life because we adopted Aria and have an open adoption with her birth mama and family! We visit each other multiple times a year. They live in Kentucky and Tennessee, so it's always so great to see them! We keep up between visits with FaceTime calls and text!

Our family is easy-going we love dancing and singing all around the house. We have sit down dinners together nightly. And always have dessert! We love escaping to the beach when we can it is one of aria's favorite places to be! We are fortunate to have family with property there so we get to go a lot! When we can't get to the beach we love getting to go to one of our 3 neighborhood pools! Aria has been in swimming lessons most of her life and loves going to pretend to be a mermaid.

We have two dogs (Sadie & Eloise)who are amazing with kids! Sadie sleeps in Aria's room every night with her! They are bigger dogs and will cover you with kisses if you let them. Both of them are rescues. Eloise is a Boxer Great Dane mix, but is more of a Boxer size. Sadie is an Australian Cattle dog. They love going for walks and rides in the car!


Our Home
We live 15 minutes outside of Raleigh North Carolina in a small town! Our town has so much to offer! There's always farmers markets, festivals and plenty of great places to eat! We have a fantastic school system to! Our home is in a great neighborhood that has tons of kids in it! We live on a small cul da sac & we have a big front yard and long driveway for playing! As well as backyard where we have a playhouse and endless toys! We have two playrooms and a large living room where we love to have fun movie nights! We have a big kitchen and we're always sitting at the counter making crafts or some yummy treats!

John's mom lives in the neighborhood too. The rest of our family and friends live really close by to! We have Tarah's parents who live in Boston but visit every few weeks! A weekend at our home you will usually find us entertaining friends once or twice! All of our friends have kids so we will set up a little swimming pool or build epic forts for them to play in! We love a lazy Sunday morning! We will usually have a family outing to see other family and maybe go to our favorite restaurant or pick out some new flowers!

We have a nursery set and ready to welcome a new little one! Aria has been helping pick out new things for baby sister or brother. She is so excited to one day get to hold them! She has plans of moving her bed in the baby's room to sleep close to them.
Tarah is originally from Boston. Before becoming a mom she owned a small photography business. Now she's a stay at home mom. Recently she's created a small jewelry company that she runs out of our home. She hand-makes every piece of jewelry she sells herself. Aria is the drive of the business. She loves helping design new pieces! She has even made a few of her own!

Tarah loves being a mom! She was definitely made for it! She is nurturing and is always there for Aria. She always has something fun planned! During the day Tarah homeschools Aria. Next year as long as everything is okay in the world Aria will be back in school. Besides schooling they spend the day playing or going to a park or museum.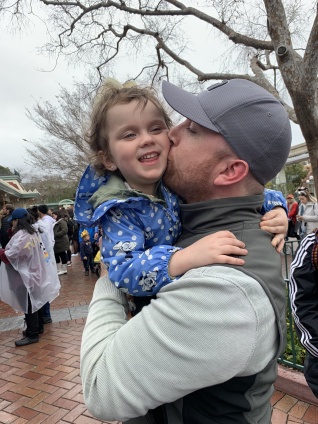 John grew up in Raleigh but played semi pro hockey in Boston which is where we met! He took over his family's successful exterior building maintenance company that has locations throughout the southeast. He loves that he is able to have the freedom to have plenty of family time! We love going to surprise him at the office!

John also loves playing golf, he has a great Happy Gilmore shot! He loves to show Aria new dance moves! John is one of the best dancers I've ever met! Though I'm probably biased! Recently Aria has been teaching him her tumbling routines for cheerleading, it's been hilarious to watch!