Our Story
Derrick and me met over four years ago in my small town of Ocean Springs, MS. Ever since then we haven't stopped our adventure. Our first date was on a balcony over looking the water, I remember like it was yesterday; my hands were shaking and all we ordered were mozzarella sticks because I was too nervous to eat. We talked and talked and talked about life about everything. Fast forward four years later we established a place called home that has been redone with love. From the floors to the walls we redid almost everything on our own. Although Lyn has a son from a previous relationship this will be Derrick's first child if you decide to choose us. Kayden also cannot wait to be a big brother — and he will be the best big brother ever! We are just hoping to find our missing piece to our puzzle, thank you for considering us!
Our Home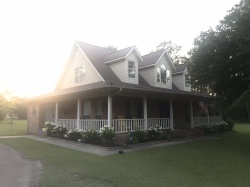 We live on 2 acres of spacious land, during summer we like to pick blueberries from our backyard and Lyn likes to bake blueberry cupcakes to blueberry Devine and everything in between with them. At night we have a wonderful view of the stars and also have a blast catching fireflies. This was our fixer-upper house and have redone everything from the inside out -done with love - Joanna Gaines style. Sunday's for us are family days, we usually gather here or at another siblings house and have lunch and catch up, family is SO important to us! There is plenty of room to play inside and out and no bodies of water close by. We usually get sweet little visitors during winter aka deer, we leave food out for. Our house is usually the "it" house to go to for celebrations and holidays. We can't wait to make more memories here.
Derrick is the most giving human I have ever met. When he loves he loves hard. He is a protector and an amazing (step) dad. When he isn't working he helps Kayden, his step son with baseball and also helps coach! Derrick has three sisters and one brother and a bonus mom! He is very close to his family. They are all very supportive with us adopting. He grew up in Alabama and he is a man's man— he loves to hunt and fish and be outdoors. With him life makes sense, he keeps us safe and makes love seem easy. He is a great dad to Kayden and I know he will be with a new little one. Kids LOVE him! When we watch Kayden play baseball at the fields, kids flock to him, I call him the "baby whisperer" he's amazing.
Hey I'm Lyn! I am will be 32 in August which makes me a Leo. I am full Vietnamese so be ready for authentic Vietnamese food all the time! My mom is probably the best cook I know, and my pops is the most generoussss man i know, your baby will have some amazing grandparents! I was born in Mississippi and have been here all my life but I LOOOOVE to travel. I have been an esthetician for almost 5 years now and I love it but also have the option to be a stay at home mom with my husbands job. I have a 9 year old son name Kayden from a previous relationship and he can not wait to be a big brother! He asks daily when we will be adopting because he is just too excited. He is such a sweet and caring kid and so kind that he won the kindness award last year in 3rd grade (proud mom) He loves to play baseball and be outdoors and does amazing in school.

I have 3 older brothers that I am very close to and talk to daily and see almost weekly. I have 1 nephew and 1 more on the way, so I am a proud auntie ( and surrounded by boys!) All of my brothers have a great education and great jobs and are very dependable.