Our Story
We are two people hoping to be lucky enough to be chosen to raise your sweet baby. Thank you for taking the time to get to know us! We know this is a confusing and difficult time for you while you are trying to figure out the best option for you and your precious baby. We hope that you feel supported and loved no matter where you are at in your journey. We admire you so much for choosing life and considering adoption. If you decide to make an adoption plan, we want to assure you that we promise to cherish and love your child with our hearts and souls to provide a safe, happy, home and a life with every opportunity possible.

Derrick and I met over 4 years ago near my hometown of Ocean Springs. We started talking on the phone a lot lot lot, until one of us fell asleep. We finally met for lunch one day, he drove over 2 hours to eat mozzarella sticks and have a beer with me and it was just one of those things "you had me at hello." After a few dates, my son Kayden, and my friend Ashley went to New Orleans to visit the zoo and Derrick met us for dinner and it was also his first time meeting my son Kayden (insert song —> My Boy, by Elvis Shane) Kayden was obsessed with Derrick the first time they met, it was an instant attachment and I knew my life would be forever changed. He was the "something" missing in our life and we are forever grateful for him to take Kayden in as his own, teaching him things like how to cast a fishing pole, bait a hook, gun safety, throw a football, catch a baseball, and sooooo much more! Now we are hoping to find our missing piece together, a sweet baby.
Our Home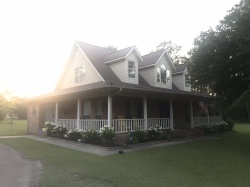 We live on 2 acres of spacious land, during summer we like to pick blueberries from our backyard and Lyn likes to bake blueberry cupcakes to blueberry Devine and everything in between with them. At night we have a wonderful view of the stars and also have a blast catching fireflies. This was our fixer-upper house and have redone everything from the inside out -done with love - Joanna Gaines style. Sunday's for us are family days, we usually gather here or at another siblings house and have lunch and catch up, family is SO important to us! There is plenty of room to play inside and out and no bodies of water close by. We usually get sweet little visitors during winter aka deer, we leave food out for. Our house is usually the "it" house to go to for celebrations and holidays. We can't wait to make more memories here.
Derrick is the most selfless human I have ever met. He has a big giving heart but also very protective when he needs to be. I know he will be the best dad to a new baby because he is the best dad to my son when he didn't have to be.
I just LOVE my family. I always put them first and foremost, because without family what else is there? I always make time for Kayden, wether it be school, sports, or anything else. I also make sure to have time for my husband my forever boyfriend, and all of our great adventures.