Our Story
We met through a mutual friend on Christmas evening of 2004. I saw a handsome man who had clearly spent the day working, and even recognized a work truck in the parking lot that most surely had to belong to him. It was not love at first sight, but it was "like" at first sight. We started dating about 6 weeks later. Our first date was a the Waffle House where we talked past midnight into the early morning. On Valentine's Day we went to my grandparent's 50th anniversary where my family met Jake for the first time. Everyone knew it was a big deal because I NEVER brought guys home. He caught the garter, I caught the bouquet. We spent the next weeks dating, doing life, getting to know one another. Jake shared about his son Andrew who lived with his mom in Alberta, Canada, who was 11 at the time. He also shared about his vasectomy in his previous marriage, that would need to be reversed for us to build our family should we marry. We discussed adoption at this time. After much prayer and consideration we both continued to see our relationship heading toward marriage. We got engaged by May and were married by June of the next year. We were married at "Pretty Place" Chapel in Cleveland, SC, surrounded by family and friends. We honeymooned in nearby Sapphire, NC on an island on a beautiful lake. We also were given a wedding gift of plane tickets to join Jake's family in Montana for a family reunion so we could meet family that did not make it to the wedding. We were able to visit Yellowstone Park and have some adventures there.
Our Home
We live in South Kansas City, Missouri. We moved here in 2010 to become a part of the International House of Prayer, where we do 24/7 prayer and worship. There are people from all over the world in our neighborhood as a result. Our neighborhood is still mostly Caucasian and African American. There are many blended and adoptive families in our circle of friends. Adoption is supported, accepted and welcomed in our community. Being a blended family, and with both of us coming from blended families, we know that family is much more than blood. Love is what makes a family.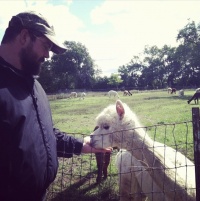 Jake is an amazing man. He has a Macgyver type abilities and can literally fix anything. He is known for his fun-loving nature, and his love of the outdoors. He is one of the most resilient individuals I've ever met. He is a grateful person who can make the most out of a difficult situation. Not many could withstand the difficulties that he has and still have the zest for life and strong love for God.
Our homestudy references describe him as, "quiet, calm, hardworking, caring, having a wonderful sense of humor, honest, mature understanding, tender-hearted, smart, kind, consistent, proactive and genuine.
He has been compared to Ron Swanson from, "Parks and Rec." He reminds me that vegetables are what his food eats. His friends Ryan, Ehi and Dan are dear in his life. He also has a good friend Wayne who he went to high school with who was his best man at our wedding.
Jake loves burgers and cheese almost more than life itself. He was rather be outside in nature than anywhere else, besides building. He has stood by me through the most difficult trials of my life. When I told one of my close friends we were adopting, she said..."Will he adopt me? I want him to be my dad."
-Grew up in Montana near Mystic Lake then lived in Livingston
-Went to the University of Montana, Dillion
-Was in the Marine Corps
-Taught High School in Point Barrow, Alaska, above the arctic circle
-Worked for his family's construction business when he was 15, has been building since.
-Is an author of an unpublished book.
Daisy is a southern girl in a midwest world, trying to figure out this thing called life. When I'm not gardening, whipping up home cooked meals, or working our our business, you will find me teaching English, praying or praying and singing. I also like to write. I wrote a book called, "The Confident Curvy Woman: God-Centered Authentic, committed dating relationships." I have mentored women around these issues, and helped them walk through the traumas that life brings through prayer and scripture, while also working out my own process of healing. Fishing gardening and music add spice to my life. The only Duke boys I ever pulled for are the Dukes of Hazzard and ironically the best mayonnaise in the world holds the same name. But the best basketball team does not go by that name (Go Tarheels!). Hunting season tries my patience because Jake gets "PDS"it's like PMS but for men, he loves it so I am patient with it, plus I get deer meat. My daddy put a fishin' pole in my hand when I was 4 years old, and I've never stopped. We used to raise rabbits for about 7 years, but I had to stop because the food was making mine sick and several passed :( We are hoping to start again at some point in the future. I really helped my heart during the hard parts of our infertility to hold baby bunnies. Jake has compared me to Kimmie Schmidt. Not sure if you've seen the show, but it's hilarious. I talk alot, sometimes too much, and at times I am just as surprised at what comes out of my mouth as everyone else. One of my favorite coffee mugs reads, "Best Stepmom Ever." This mug was bought in faith. I actually wasn't always that good at mothering. I've had to grow and work at it. I'm for sure not perfect by any means, but I will do my best to love and care for your child.