Our Story
Paul and I met at church and after a year of dating got married and here we are. We have been happily married for 8 years, this year. We spent the first few years getting our business established before having our kids. We now have a stable business and Paul has a flexible schedule and spends a lot of time at home with the family.
We know a strong marriage is important when raising kids and so we try and do at least one date night a month and one date lunch. We enjoy fine dining and usually pamper ourselves with shrimp and steak. Traveling is also something we enjoy. Paul travels for work but as a family we go to a family camp once a year on Lake Michigan, we travel to Florida a lot, and do some small trips just little weekend getaways.
What matters most to us is family which we feel like includes our extended family and our church family. Good food, friends and fellowship is what we aim for.
Our Home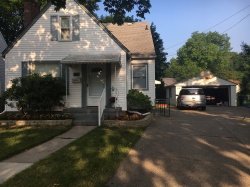 We live in Dearborn, MI. We moved here because we feel safe living here and having our business here. We live in the city but our house sits on an extra large lot, on a quiet street and since the kiddos play outside often we have a swing set, trampoline, tree swing, bikes, and a fire pit. We also love gardening and have lots of flowers and veggies.
I am a hard worker and worked hard to set my business up so I can be at home with the family and have flexibility to take days off when I need to. This helps a lot in being a dad. I enjoy being active and so I take the kids on bike rides and family walks. I have 2 brothers and 2 sisters and both my parents are alive and they all live pretty close to me. I like to take an active roll in raising our kids and my favorite thing is tucking my kids into bed at night. After that me and Amy spend time together to keep our marriage strong. I'm 33 years old.
I am a high spirited girl with a lot of energy, which is a good thing because I take care of our two very active kids and I look forward to hopefully adding to that. I enjoy organizing things and keeping a clean house. I try my best to provide the kids with the love and structure they need to grow and flourish in life. As a wife, I help plan our date nights because we feel that it helps keep us connected and we love to explore new places and try new foods. If you've ever read the personality book on the Enneagram, I am an 8. lol. I am 32 years old and have 3 sisters.