Our Story
Charles and I met 10 years ago at a military facility. He was an Officer with the unit I volunteered for. We've been inseparable ever since.

Our journey to parenthood has not been without challenges but each chapter brought us closer. We are grateful to have been blessed with a son and have hopeful hearts that we will bring home another blessing (or two) ❤️


Our Home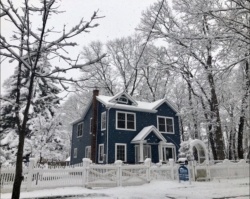 We live in a beautiful small hamlet on Long Island. Our home is newly remodeled and our yard is equipped with a swing set and spacious enough for lots of family fun and games. We are surrounded by wonderful neighbors and a very tight community.

We love to build snowmen and snow angels when nature blesses us with snow. In the summer, we live for sunny afternoons in the sprinklers or enjoying our neighborhood playgrounds.
My beautiful wife, Jess, is the most sweetest, honest, giving person I know. She is true to herself and those around her. She never fails to amaze us with her creative ways.

She loves being a mother. The smile upon her face when she's around our son; around all kids is mesmerizing. She has this sweet way of connecting with everyone wherever she goes. I see so much of her in our son and nephews, and I proudly share this with a happy heart. I received a blessing the day she smiled at me and another the day she became a mom.
There's so much I can share about Charles. He's the most humble, honest, hardworking, loving person I know. He loves wholeheartedly and always places family first.

I knew from when I met Charles that he'd be an amazing father. He did late night feeding and early rising. He happily sings off key and does funny faces in public just to turn frowns upside down. Even during deployments, we stayed connected with FaceTime and/or Skype. He never missed a beat.

Together, Charles and I built a strong foundation. We are compassionate, loving, honest people hoping to share life's journey in a home full of love, compassion and laughter with our kids. ❤️