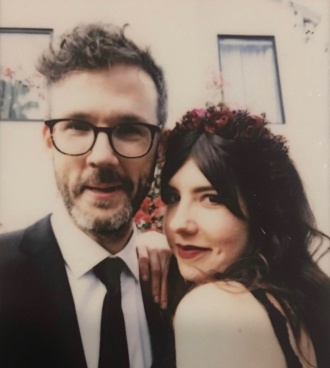 Our Story
We met in May of 2017. There was an immediate connection between us, and over the span of a couple months of long talks, lots of laughter and many adventures, we fell deeply in love. Daniel proposed in February of 2018 on a rooftop overlooking all of Los Angeles, and Victory was simply overjoyed. A few months later, we gathered with close friends and family for an intimate backyard ceremony. We made vows before God and our loved ones, and we danced the night away! The foundation of our relationship is our shared faith, and due to that, we feel our relationship is a gift, and we work to preserve our bond every day. We've loved being a family of two, and are ready and excited to become a family of three!

Summary Of Us:
Los Angeles dwellers, dog lovers, book readers, movie makers, deep feelers, critical thinkers, Christian believers, art/film/music lovers, loyal friends, niece and nephew spoilers, and kitchen dancers.

6 Things We Could Never Do Without
1. Attitudes of gratitude
2. Curious minds
3. Empathetic and compassionate hearts
4. Art & beauty in all forms
5. A sense of humor
6. Resilient spirits

What We're Doing With Our Lives:
Our lives are full of creative work that we love, wonderful friends and family, and planning and prayers for our baby-to-be.

We're really good at:
Working as a team

On Repeat:
Old Italian Classics on Spotify

On A Typical Friday Night We are:
Snuggled up on the couch with each other and Mabel watching a movie, or sharing a good meal with a dear loved one.


Our Home
Home is our place of rest and comfort. It's here we recharge, and host loved ones for celebrations of all kinds. We often stroll down to the beautiful park nearby, and love to frequent the shops and delicious restaurants that dot our block. We dream about adding a baby and a stroller into our walking tradition. We have lots of friends and family who live nearby; many of whom also have small children. So, there's a whole community of excited people ready and waiting to welcome our little one!
DANIEL is 42 years old. He was raised in Knoxville, Tennessee and earned his Bachelor's degree in Broadcasting. Daniel is a writer, and works full time at a movie production company. He was raised Catholic, and his faith continues to be his guiding light.

WHAT OTHERS SAY ABOUT HIM
Others describe Daniel as funny, intelligent, creative, authentic, and lots of fun.

FAVORITE PAST TIMES
He loves his book & film collection, the Patriots and the Braves, Formula 1 Racing, playing chess or scrabble, camping in the wilderness, a live comedy show, and any time spent with Victory and our dog Mabel.

WHAT VICTORY LOVES ABOUT HIM
Daniel's gentle spirit, commitment to honesty and sense of humor are just a few of the many reasons I love him. I love his vivid imagination and hearing him share his thoughts on just about any topic. I respect his work ethic, and deeply value his dedication and faithfulness to me and our relationship. How he cares for those he loves is heartwarming to see, and I know he will be a very nurturing and loving father to our child.

NICKNAMES
Uncle Daniel, Dan, Danbo
VICTORY is 42 years old and was raised in Los Angeles. She earned her degree in Theatre and became an entertainment producer. Victory was raised in a Christian family, and her deep faith continues to be the bedrock of her life.

WHAT OTHERS SAY ABOUT HER
Others describe Victory as warm, caring, loyal, funny, creative, curious, insightful, and empathetic.

FAVORITE PAST TIMES
She loves reading books and listening to podcasts, rambling walks on crisp autumn days, exploring art exhibits, deep conversation with a dear friend over coffee, cozying up to watch a good movie, solving a crossword puzzle, and spending quality time with Daniel and our dog Mabel.

WHAT DANIEL LOVES ABOUT HER
Victory is the most incredible person I have ever met. She fills my life with so much love and meaning. She is so thoughtful and supportive and always puts our relationship ahead of everything else, and I know she will do the same for our future child. She's going to be an amazing mother and I can't wait to have a family with her.

NICKNAMES
Vic, Viva, VaVa