Our Story
Our friends played matchmaker for us more than a decade ago. Chris had finished law school and returned to work in his hometown (New York City) where Suzy (also a New Yorker) worked as a writer. We met at a birthday party. We bonded over bike rides, binge-watching TV, the Beatles and just bopping around Brooklyn. We soon learned we had similar upbringings — and even figured out that for years, and before we had ever met, our families had been vacationing each summer at the same place at the same time. (They probably walked past each other on the sidewalk.) That vacation place served as the perfect spot for our wedding.

The best thing to happen since our wedding was having our daughter, Gigi. It wasn't easy getting pregnant, so it was a great excitement
when it happened. Our goal was always to give Gigi a sibling — and knew quickly adoption was the right way to grow our family. One thing we didn't expect on our journey was just how much she would want a brother or sister herself. Gigi can't wait to have a sibling to love. It has made adoption so much more natural and obvious.
Our Home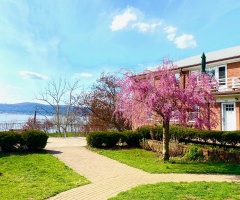 We own a 3-bedroom co-op in a sweet little river town. The river is the backdrop to our lives here: We race to the porch to catch pretty sunsets or a tugboat pushing a barge upriver — and it's always glistening in the background when we're at our playground or making chalk art on the front sidewalk. Our home is cozy and welcoming with the two best cats, Boo and Henry, who greet us at the door.

Our small, historic town which has received "best of" accolades, is just a short train ride to NYC. The public schools are award-winning and the elementary school is within walking distance of our home. The town has multiple riverside parks, one with a new playground opening this year, that have stunning city views and are walkable from our home. Best of all, Suzy's parents still live in town. They spend time with and help take care of our daughter every day, and have been a huge part of her life. It's really wonderful having such involved grandparents.
I'm a writer/reporter, so during the work week I'm working on stories — often from home. (Even in non-COVID-19 times.) I've interviewed loads of famous people, which has made for a fun career. My job allows for lots of vacation and the flexibility to volunteer at Gigi's school as class mom. All my real enjoyment comes when I'm off the clock though. We're super family-focused, so most days we're hitting the playground, scooting, biking, swimming, blowing bubbles, having dance parties — and repeat. Some of my favorite things are beach days swimming (especially at the beach), photography, taking care of
our small but beautiful garden, family yoga, music (The Beatles) and sitting on our porch staring at the nearby river, which is so peaceful.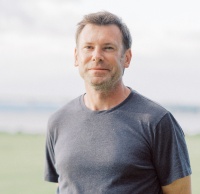 When Suzy and I met, I worked in the heart of NYC. Luckily, by the time Gigi came around, my job had moved to the suburbs. Now, my office is only a short drive from home and I have flexible hours. This lets me spend time with Gigi every day: I get to do morning prep and school drop-off, and I get home for dinner, bath time and stories every night. On weekends and days off – which our daughter calls "family days" – the three of us, if we're not snuggled on the couch with the cats watching a movie, are usually off on some fun adventure. There's never a shortage of museums, trails, bike paths, pools, and playgrounds to visit, and no shortage of school and team and neighborhood friends to go with. When we're all piled together at home, I like to play guitar, though not especially well.