My Story
I grew up in southern Missouri in a small town. I was raised in a loving, but blue collar two-parent family living paycheck to paycheck. I was a shy child who wanted to please people around me but came out of my shell as I got older. I grew up with one younger brother and enjoying big family gatherings and holiday traditions. I found a love for education and excelled in school. I worked hard and graduated as a Valedictorian of my class. I went on to become a teacher and hold a Master's degree as an Elementary Math Specialist. I currently work in the special education department and love helping students make math connections or learn to read for the first time!

I am a Christian, attend church regularly and am devoted to my faith. I believe that includes living a life of integrity and showing kindness to others. I also believe being a Christian doesn't mean you must cut yourself off from the world, or keep your child from participating in childhood memories.

I have always wanted to be a Mom. It has been a longing desire. Adopting has always been something I have always dreamed of, but I thought I would fall in love and get married first. We can make plans, but sometimes God has other intentions.

I know adoption can look very different. Somewhere out there is a mother who is making the most difficult decision of her life. She knows that adoption is the right choice for her, but she has so many concerns. Will she regret it? What will her child think? Will she be cut off from her child? How will she know that she picked the right family? etc. I can't begin to think that I know how to give her all those answers. However, I can tell you from my side of things that I recognize all of these fears. They say it takes a village to raise a child and that's certainly true. To begin, I may be a single person, but I understand that every person in my life, affects my child's life. This is important because maybe a mother has concern of the child not having a male father figure. I have a father, a brother, uncles, "like a second parent" father figures, close male church friends etc. that will all be able to provide that role in a child's life. Also, it means that if the birth mother would like to have a connection to her child, I won't deny them that. I think that this is healthy for both the birth mom and the child. It's important that the child knows where they came from and that their birth parent loves and cares about them throughout their life. This helps the adoption process to have peace of mind on both ends. I would want to discuss that together and set up expectations for that contact and frequency for throughout their years. Thirdly, getting to know the family you choose, gives you comfort knowing that your child is safe and has a good environment. I want you to have that assurance. For that reason, I am open to questions, correspondence, providing honest feedback from my references, and allowing Facebook searches of my profile. I have nothing to hide and have received nothing but support from all those who know me.
My Home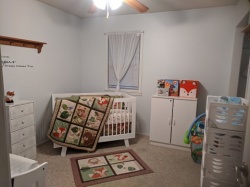 I live in West Plains, Missouri w/ a population 12,000-15,000. It has a small town feel but has options for everything you need. My city has many shopping centers, restaurants, a hospital, a community college, 9 schools, a YMCA type community center which holds major concerts, basketball games and events.

My neighborhood is in a small, safe subdivision on the edge of town. There is a neighborhood park, creek and walking path a few yards from my house. My neighbors are a mix of pastors, law enforcement, retirees, and young families.

I live in a 4 bedroom, 2 bath home with an additional family den, swimming pool, deck and backyard. It has more than enough room for a child. A basic nursery is already set up for a little one and will be personalized/genderized once a match is made.

We are also with 1.5 hours away from Springfield/Branson, MO and 3 hours away from St. Louis, MO. This provides many options for weekend get aways, science museums, zoo's, the city museum, theme parks and other fun places aimed toward Children.
I am an ENFJ personality on the Meyer Briggs personality test. This really speaks a lot about who I am as a person. I am very passionate about helping people become the best version of themselves. People often come to me for advise and I found myself being like another mom to many. It's always awkward to talk about yourself, so I asked my friends to describe me. They felt the best words were nurturing, caring, driven, organizer, natural leader, adventurous, and compassionate.

I was a young adults pastor for several years and developed many good skills and friendships from that time. I have since recently started a minor role as a missions director in my church.

I love traveling and sightseeing. I often hike to waterfalls, visit natural parks, kayak, swim, explore caves, and learn about other cultures. With this, I enjoy nature and wildlife photography. I also love theme parks, art, drawing, spending time with friends and family, and having movie night or game night.

I have passion for the tropical plants and waters of Central America and Hispanic culture. I collect small, musical instruments from around the world. I also speak Spanish at an intermediate level and would like to become fluent one day. I attend a Spanish church service weekly with many Hispanic friends and have already acquired a collection of children's books in Spanish.

My extended family often gathers for get-togethers. We have a big family dinner for every Christmas, Easter, Thanksgiving, Fall Fishfry, and sometimes 4th of July.

Some of my annual family traditions are getting together to do elaborate Christmas cookie decorating, giving out Christmas cards, tree decorating/caroling, having a family Easter Egg Hunt, Watching the Macy's Thanksgiving Day parade, Firework Displays, a summer vacation trip, and birthday celebrations.

I am also excited to add in new traditions with a child in the home. And as silly as it sounds, I'm excited for all the mundane things: folding all their little clothes and rocking them to sleep... and when their older, helping with homework, and explaining why they don't need a boyfriend or girlfriend at 9 years old. Lol