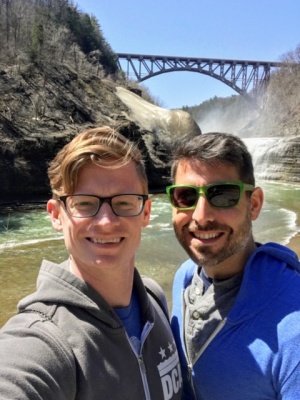 Our Story
We met in 2013 in Washington, DC. We were both asked by our LGBT sports teams to escort a local drag queen through a fundraiser dinner event. We showed up an hour before the event to get into our costumes and had fallen in love with one another by the end of the night. Since then we have loved being together through good times and challenges. We have grown a lot since 2013, having moved three times, both made major career changes, and continued being the best sons, uncles and brothers we can be. Currently our life together is all we have worked for, minus having a child. We love our work, our pets, and our home. We are overflowing and we can't wait to share it all!
Our Home
Our four bedroom home is located in Edgewood, a small borough on the east end of the city of Pittsburgh. Edgewood is a suburban spot within walking distance to the city. The streets are lined by beautiful tall trees. The largest city park is a short walk down the road, and right in front of our home is our community's baseball and soccer field, running track and playground. Edgewood hosts community events in this field throughout the year. We love it.
Hi! I'm so excited to get a running stroller to bring our kid along with me on runs through the park. I can't wait to rock our child to sleep and teach him or her the value of kindness.

A little about me....
I grew up in a large family in the south - Memphis, TN. I have an older brother and an older sister and TONS of cousins. As I kid I always looked forward to Sunday dinners at my grandparents' house with the extended family. I've always loved all animals - especially dogs. My parents were afraid of dogs so they got me fish instead. Aquariums have become a hobby of mine, and we currently have 2 large aquariums in our home. I went to the same elementary, middle, and high school in my hometown and then off to our local university where I studied business and technology. I am now a researcher and spend my days looking for new and creative ways that technology can improve peoples' lives. I found running in my late 20s and its become a passion of mine. I've now run over 10 marathons, 4 ultramarathons, and countless other races. Running keeps me healthy, active, and most importantly sane. I moved to DC shortly after turning 30 and met my husband, Todd. His kindness, patience, and family values immediately won me over. Shortly after getting married, he convinced me that Pittsburgh would be a great place for us to raise a family.

I grew up in a small town one hour outside of Pittsburgh. I was a quiet, shy kid who did well in school and was known for being a good swimmer. My family is small, I only have one brother. I am very close to my mom, who only lives 25 minutes away. I studied Spanish and Portuguese, sociology and nursing, and traveled throughout Latin America in my 20s. I met Matt in my early 30s and my life changed radically. I began to travel less and stay put more to be at home for us. I am currently a nurse manager of an addiction medicine hospital unit. I can't wait to teach our child to swim, how to speak Spanish, and how to be the healthiest kid in school!