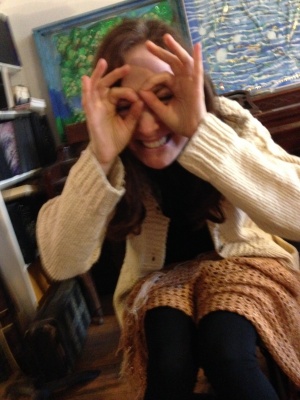 My Story
I am an adventurous redhead, with a positive and realistic outlook. I come from a very hardworking family. Although my parents were of modest means, they always valued hard work. I put myself through college and graduate school while working full time. I've been very lucky and want my child to inherit my good fortune.

Most of all, what matters to me is giving a child a loving and generous mother, so that it is in their DNA to demand great relationships throughout their life in work, friendship and love.

My Home
I live in a small town in NJ, close to New York City. I considered buying an apartment in New York, but my town is the perfect place to raise a child. While over the year, I've wondered about moving, I'm so glad I didn't! I own my large apartment. I eat healthy and am a great cook. My specialties are penne puttanesca (my skills verified by my Italian-from-Italy friends), and shuk-shuka, an Israeli breakfast dish.

I recently revisited the house where I grew up, and a warm safe feeling came over me. I have that same feeling in the home that I have created. I want baby to have that same feeling - colorful "arty" interiors, a quiet place to fall asleep, a safe place to play - and later tons of interesting books for rainy days.

I love comedies and remembering to laugh. I love stories of people who overcame the odds and triumphed. My guilty pleasure (on Netflix) is Outlander, these days, because I'm fascinated with time travel. Hello, can I visit the 1948 please?
I'm a therapist and a creative person (on the side), and am lucky to have rewarding and enjoyable work. I do well and am able to provide a comfortable life for my future family. Even during the current COVID-19 crisis, I am able to earn a good living. My schedule is light and flexible, and I am able to work at home, perfect for a mother able to be there for her child, in sickness and health. I am lucky to have amazing health, and rarely get sick, since I was a little girl (I won an award in Sunday school for my perfect attendance). I am Jewish and value a religious education focused on being a good person.

I am straightforward, and am a woman of my word. It is one of my best traits, being responsible, and I have been that way since I was little kid.

If this description brings a smile to your face, or gives you a calm feeling in your stomach, please consider texting or calling me to see if we are a good fit.
I'm reliable, kind, fun and loving. These traits will help me to be my best as a parent-to-be.

Growing up, I had no doubt that I was loved, especially by my father. I helped to raise my niece, Emma, and have been a big part of her life. When she was was 1 month I let my sister sleep for 2 nights, while I stayed up all night with her. I absolutely fell in love with her and we bonded. It has been the most important relationship in my life. I have diapered her, soothed her tears, helped her find the words to express her feelings, and played with her with great delight.
I will teach (I think I'll call her Alessandra) how to deal with life's disappointments, how to always have enough money, how to make and keep excellent friends, and how to fight fairly with the people you love.