Our Story
Cody and I met in the middle of college. We bonded over our love for football, family, and spirituality. It didn't take us long to realize that we were meant to be together and we were engaged soon after. We got married in 2010 and started our journey working for a non-profit organization focused on mentoring high school, middle school and college students in Oklahoma. While we were happy there, we knew our story wasn't going to stay in Oklahoma and we had this burning desire for more. ​

We made the move to Southern California in 2012 with the desire for culture, beautiful scenery and the desire for an acting career for Cody. While a career change brought us out here, we realized we finally found our home. We immediately found that this had been our hearts' longing after all. We settled into the busy California life quickly. Cody took a management job at a restaurant and Casey went on to find a job working for a major university. We spent the weekends going to the beach and bonding with friends over dinner and game nights.

After 5 years in this city, we were ready to start trying for kids.
​Who knew that would happen so quickly? As soon as we made the decision, we were pregnant with our first. And because she made such a perfect impact on our life, we quickly made the decision for our second, who was born 21 months after her. During this journey to parenthood, some major changes have happened. Casey went on to leave her job and found her career and passion as a consultant helping other moms navigate those first few years and obtain a consistent sleep routine for their kids. Cody has since worked on several television shows and has developed a thriving business at the restaurant he manages. We both have made these important changes in our life in a desire to give our kids the best life imaginable. Due to our specific careers we are both able to spend a lot of time with our kids at home.
Our Home
We live in a peaceful area of Southern California, surrounded by family homes and nice "mom and pa" restaurants. We go walking for donuts or tacos at least once a week. Our favorite place for the kids is the park behind our neighborhood. It takes 2 minutes to get there and our kids can run all over without too much distraction because the park is so private. It's nice to have our own big backyard but sometimes a walk gets the worst of the wiggles out.

We are so thankful to have a very diverse group of friends here. Luckily Casey's childhood friend only lives a few miles away, with her husband and their baby girl. We spend major holidays and special occasions with their family. We especially love getting together with one of the first families we met when we moved out here. Their large family will come over for play dates and our kids will play for hours in the backyard while we eat lunch. It's important to us that our kids grow up with these friends because they have become our family away from home.
About About Cody (Casey's Words)
From the moment I met Cody, I knew there was something special about him. He was different than many of the men I had dated. He was intentional with me from the start. He's always been about the details and made sure that each occasion was celebrated, recognized and a time to make me feel loved and special. It was no surprise to me when he shined even more the moment he became a father.

Cody is so amazing with our children; the squeals of laughter are different with him. They laugh at his antics, feel on top of the world when he takes a special interest in their interests and they find a special bond with him. As you can see, I've chosen well. Cody is a pillar of strength for our family. He leads, loves and goes out of his way to make each day wonderful. I often feel humbled by his ability to see God in each moment. He is everything a girl could dream of in a husband, father and friend. ​

Quote: "Cody leads, loves and goes out of his way to make every day wonderful!"

More About Cody…
Age: 30
-Occupation: Actor and Restaurant Manager
-Favorite movie: Wizard of Oz (why I became an actor).
-Favorite Books: The Outsiders, Lord of the Flies
-Favorite place: Being on a tv/film set
-I can't live without: Creating something
-My perfect day. Being on set filming and then going home to Casey and the kids
About About Casey (In Cody's Words)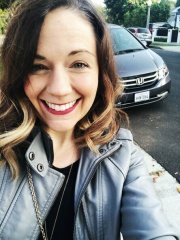 I met Casey when I was 19. It was an extremely difficult time for me as I was trying to balance my dad's failing health and the demands of a prestigious acting conservatory. Casey walked with me through the most difficult years of my life in grace and love. From the beginning, I knew she was different than most people, because she naturally nurtures and cares for everyone else.

We have been married for eight years and the greatest joy has been watching her become a mother. She goes above and beyond with everything for our kids. Whether it's the peanut butter and jelly sandwiches cut out like dinosaurs or the daily at-home preschool curriculum, Casey is always finding creative ways to be intentional with the kids.

Casey and I live by the concept of "leave it better than you found it" and I can promise you that no matter what Casey is involved in, she truly makes it better.

Quote: "No matter what Casey is involved in, she truly makes it better!"

​More About Casey:
-Age: 32
-Occupation: Pediatric Consultant
-Favorite book or movie: Harry Potter series (the Office Series – tv show)
-Favorite place: Disneyland
-I can't you live without: Coffee and Netflix
-My perfect day: A day at Disneyland