Our Story
Morgan and I met the week he was leaving for his LDS mission back in 2012. I was working for my parents at a dry cleaners while I was still in high school, and he walked in to drop off a suit. We talked for a couple minutes about some mutual friends we had, but that was about it. Fast forward 1 1/2 years to 2014. I got an email from Morgan who was serving his mission in Washington D.C. We casually emailed each other the last 6 months of his mission and started dating when he got home. 10 months later on June 5th, 2015, we got married in Rexburg, Idaho.

We have now been married for 4 years, have new house that we built, and have a sweet dog named Ollie. We are very close to both our families and we love spending time with them. Hannah has an older brother and a younger sister, both married. Morgan has two older sisters, one younger sister, and one younger brother. All of them are married except the youngest brother. We have 2 nieces and 1 nephew who we love! We love hanging out with our families and making new memories with them. We love mini golfing, playing volleyball, four-wheeling, camping, and kayaking with our families!

Morgan is a salesman at his dad's car dealership, and Hannah is a 1st grade teacher at an elementary school. Morgan is also currently working on getting his MBA online!

Religion, and our belief in God, is a very big part of our lives. We want our child to grow up knowing he/she is loved by us and by God.

We love our life together and we can't wait to add a sweet baby into the mix!
Our Home
Our home is on a 1.4 acre lot, so we have a very large yard perfect for growing children! Our yard is also connected to Morgan's parents yard, so grandma and grandpa are close by. We live on the outskirts of a small town, but only a 15 minute drive to the main city. Also, there is an elementary school and church around the corner from our house.
I am a quiet person when I first meet new people, but I warm up quickly! I work hard at my relationships, and I strive to keep them strong. I am a patient person, especially when it comes to children. I have an understanding of child development, which has helped me as a teacher and I know will help me as a parent. I also love to have fun and try new things! I want my future children to have the courage to try new things and I want to give them those opportunities and experiences that will help them grow.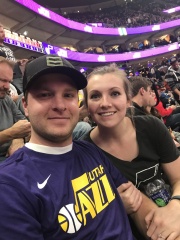 The trait that makes me a good partner and will make me a good parent is that I am a very hard worker. I work hard at my relationship with Hannah, my job, and I am currently working on getting my Master's Degree. I want to instill that same sense of hard work in our child. I relate well to children and love having fun and joking around with them. I also know the importance of structure and discipline when it comes to parenting. I also love sports and being active and want to share that love with our future children.