Our Story
We had our first conversation in 2003. We had met several times before that but were too shy to talk to one another. We started talking one night at the birthday party of a friend that Johanna knew from college and Brad knew from law school. Brad told Johanna that night that he really liked her but had a girlfriend, so, naturally, she told him to go away. Brad found Johanna eight months later using Friendster, a precursor of Facebook. We soon discovered that we shared a love of art, Italy and food!

After a few dates we were both certain that we were meant to be together. Since then, without exception, we have taken care of each other and made one another laugh.

We got engaged at sunrise in Mexico in 2007 and were married in 2008 at the Brooklyn Botanic Garden, surrounded by our friends and family, in a ceremony and reception featuring poetry, laughter, wonderful food, and dancing. It rained, but we are proof of the saying that this must be good luck, especially when we have supported each other through some of life's most challenging obstacles.
After 15 years, we still just love being together. We eat dinner together almost every night, whether Johanna cooks (and Brad cleans), or we order take-out. Brad unfailingly texts when he is leaving work and when he's twenty minutes away so that Johanna can prepare dinner.

Both of our parents set great examples of how to sustain a loving and caring marriage. We have learned much from them, not least of all how to communicate and work through problems.

We enjoy taking art classes together, going for long walks in the park or (preferably!) at the beach, and going to the theater or live music.
Our Home
Our home is a lovely three-bedroom home in Prospect Heights, Brooklyn that we have lived in for ten years. There are many young children in our neighborhood, and a great elementary school just down the street. In the winter we host dinner with friends by the fireplace and in the summer we grow herbs and vegetables on our deck where we eat dinner and marvel at the ever-changing views of the city.

A neighbor and friend with two kids recently described the neighborhood as 'Sesame Street.' It's filled with diverse families of young children and there are terrific public schools as well as a farmer's market we attend every week, ice cream shops, playgrounds, and bookstores.

We love walking through the Brooklyn Botanic Garden where we were married and observing the cherry trees, Spanish bluebells, rose garden and other delights as they bloom. In the summer, children fill the cherry esplanade on picnic and movie nights that we regularly attend. We also take advantage of the central branch of the Brooklyn Public Library's offerings, such as music or talks, and we're looking forward to taking part in the library's expansive children's programming. Nearly every day there's a storytime or craft workshop. Nearby Prospect Park is a great place for sledding, picnics, and a visit to the carousel and children's zoo. We also had some great times with our friends Courtney and Joe and their two young children attending free summer concerts in the park. We bring picnic food and some blankets, and the kids run around, dance, and chase fireflies under the stars.

I grew up in suburban Cincinnati, Ohio, with my parents Mike and Phyllis and my older sister Allison. My mother was an elementary school teacher with Public Schools and taught in some very troubled schools. My dad worked at Procter & Gamble and had served in the Marines. So while they were both very loving and supportive, they also taught us the importance of a good education and hard work. My parents encouraged a love of reading from an early age. My first words were "Read the book."

My love of reading and writing led me to the legal profession. I have a job called "Managing Attorney" at a big law firm. This means that I handle all the court filings and advise the attorneys on the court rules and procedural issues. I enjoy my work and I particularly enjoy teaching the new attorneys – if I was not a lawyer, I'd probably be a teacher! Johanna is happy because as she says "It's a lawyer job without lawyer hours."

Though I work in the legal profession, I also have a creative side. I have always loved drawing and painting. I also love music, and while I don't play any instruments, I have quite a record collection! My other hobbies are playing pick-up soccer in the park and watching my New York Redbulls and the U.S. National Soccer Teams. I'm not a natural athlete, so I really had to work hard to be a decent soccer player and have great admiration for professional athletes.

I also have a love for nature and the great outdoors, which I learned to enjoy with my father, who is an avid nature photographer. Whether it's Prospect Park in Brooklyn or Muir Woods in California, I find happiness in experiencing the beauty and wonders of our planet. I am looking forward to sharing these experiences with a child and exploring new ones that this child may love.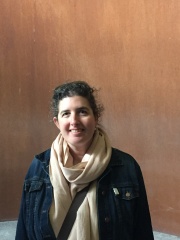 I am a life-long New Yorker and the only-child of my parents Carole and Bob. I come from a very small but close-knit family – we have a lot of silly family jokes and traditions! We watched lots of movie musicals; now I know the words to 'Singin' in the Rain' better than the lyrics to 'Purple Rain.' My family loves to celebrate together with lots of delicious foods.

During my childhood, I fondly remember spending time at the house doing watercolors and working on school projects. I even remember working on Halloween costumes with my mom – one year I decided to be a grandfather clock since the kids at school who used boxes in their costumes seemed to always win the contest.

My main hobby was figure skating. I grew up taking lessons when I was six years old at a skating rink called "The Ice Studio." I was tall and awkward for the sport, but I loved it and continued to pursue lessons and practice through High School.

I knew from an early age that I wanted to work in an arts-related field, and after a few years working in museums, I found my niche doing exhibition and graphic design for museums and cultural organizations. It is a great fit for me because I get to use my creative skills while also working for the arts. I have my own business which means that I work from home and have a flexible schedule. I have always loved art and still enjoy painting, particularly watercolors.
I have also recently become an adjunct professor of graphic design at a local community college. I really enjoy teaching – my students are enthusiastic and many are the first in their families to attend college!

We were all devastated by my father's death several years ago, though his passing has brought me closer with my mother, Carole. We spend many weekends in the summer with her and her new companion, a sweet Havanese dog named Goldie.