Our Story
We met 13 years ago in a club :-) It was very unexpected and didn't immediately result in a romantic relationship. We started out as friends for years before becoming a couple so we were able to build a foundation before saying I do. After we got engaged, everything changed very quickly. After trying for years, we were able to get pregnant 2 months later. We continued to plan our wedding with the expectation that Aisha would be 2 months postpartum. Our little guy actually came early so that Aisha could fit in her wedding dress :-) It was actually a difficult pregnancy and we are blessed that he arrived healthy and safely.

During that same year, Aisha changed jobs so that she could be able to be home more with CJ and JJ did the same. We are both blessed to be able to have flexibilities in our schedule to see our son grow.

Change frightens many people but for us it has brought blessings. We can't wait to be blessed again hopefully with another child.
Our Home
We are from New York City. Although NYC is deemed to be a busy, nonstop concrete jungle, we live in a very family friendly neighborhood where our little guy gets the benefits of local museums, parks, libraries and cultural events while being close to everything the cosmopolitan Mecca has to offer. We have two outdoor spaces where we BBQ, have plenty of social gatherings, are growing a herb garden as well as tomatoes, peppers, pumpkin and spinach. It allows us to relax and decompress. Our condo is a diamond in a rough and is a duplex with two bedrooms, two baths and plenty of room for CJ to run around and play. He frequents the museum on the corner as well as the libraries and parks as mentioned above which is a block away. He also attends school literally around the corner and has learned a lot. Everyday he teaches us something new and its amazing to watch his growth.
I was born in New York but went to boarding school in Hershey, PA and then away to college in Rhode Island and medical school again in PA before continuing my medical training in New Jersey. I am a physician but my biggest teacher has been life. My parents fostered children from Vietnam and China as well as adopting my two sisters and a brother that are my cousins but were unable to be cared for by their mother. My experiences growing up and thereafter have taught me my biggest lesson which is our plans are often not what is planned for us. My journey to where I am today as a mother, wife and my career in medicine is not how I envisioned it would have went. But the end result, I couldn't be happier. This is how I know that we will be blessed through adoption. By witnessing my parents selflessness, I know that loving a child is not based on shared DNA. It sounds cliche but love is what truly makes a family.

I came from a big family and I know I want a sibling for CJ. Often children are born with their own personalities (which he definitely has!) however, when I see our son's smile and laughter, I know we are great parents. My husband is an excellent father and my son runs to him when he hears his footsteps. He is an example of how I want our son to grow up. He's an amazing life partner and we work well together as a family unit.

Who I am is based on what I love to do. I love laughter so I surround myself with friends and family; we learn through travel; we work hard but play harder; we help others and live in faith. We love our family and everything we do is for the benefit of our son and our union.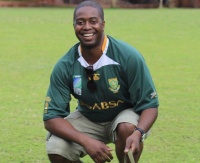 I was born in Zambia, Africa. Before settling in New York, I lived in various parts of the world and the US. I have three sisters which helped when it came to courting Aisha :) The infamous night in the club changed my life forever. After years of friendship, Aisha and I realized that we were happier together then apart. It's been an amazing journey since then.

My parents still reside in Zambia and its a great place to call home. We can't wait to bring CJ so he can experience some of what I did while growing up.

Because of my upbringing, I love traveling and experiencing new cultures as does Aisha. We usually bring items we can donate locally and would rather experience the native cuisine and culture as opposed to the tourist areas.

In addition to traveling, I love sports especially rugby which I played in high school. I love reading, real estate, food :-), comedies, and spending time with family and friends.