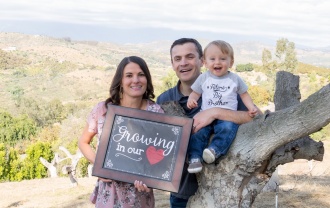 Our Story
We met while attending college at Colorado State University. It was Christmas break and we were at a mutual friend's apartment. We talked about how we had not used our ski passes as much as we had hoped. Sara said it was because she didn't have a car and Brian said, "I have a car, do you want to go to Breckenridge tomorrow?" She said yes and we enjoyed a fun filled day of skiing. Sara returned to her apartment eager to tell her best friend/ future Maid of Honor about her new crush. We are so happy together as a married couple and love our lives, family, friends and the amazing city we live in. We are also so thankful to be planted in an amazing church.

Our biggest blessing is our Son, Anders. After a long road of infertility, we adopted him in 2017 at birth. His adoption story is filled with Gods love and grace. His Birth Mother will forever have a special place in our hearts and prayers. We love sharing his amazing story. (We will share in the adoption diary / blog). Being parents has been the best, most incredible and fulfilling journey that we are forever grateful for. We strive to be the best parents always.

We have a truly incredible family. Although we live in different cities across the US, we are very close and are blessed to spend time together frequently. Brian's Parents live in Colorado and Montana. Sara's parents live in Chicago. Together we have 5 nephews and a niece. We truly love seeing our little niece and nephews and can't wait for them to become cousins to our children.

Brian's Grandpa, Hollister, recently turned 95 and we flew to Colorado for a family birthday celebration. All of his children, grandchildren and great grandchildren traveled from all over the US to celebrate this very special occasion. Hollister is a family legend that books could be written about. He is a clever and wise man with the most amazing heart. He has inspired Brian to forever strive to be the man, husband, parent, and friend that his grandpa is.

For the holidays we usually host family and friends in San Diego for Thanksgiving and travel to Chicago for Christmas to visit Sara's family. We attend the late Christmas Eve service, where we were married. On Christmas Day, we have cousins come over and enjoy a Swedish smorgasbord. Brian's family gets together every other year for a Family Reunion in Montana. We get to enjoy outdoor activities and dinners with extended family and Grandparents.

We volunteer for the kid's program at our church and get to spend time with numerous children. We believe God called us to do this so we could see how the love we will have for an adopted child is no different than if it was our child naturally. We also enjoy spending time with our family and friends. Whether it is going out to a new restaurant, entertaining at our home, attending church together or celebrating special occasions, we cherish all the people we are blessed to do life with. We are health conscience and enjoy staying active. We love the outdoors and hiking together as a family.

We are so excited to be starting the process to adopt and complete our family. Your child will be so loved and cared for as part of our family. We genuinely thank you for considering to bless us with another child. We look forward to getting to know you.
Our Home
We live in North County San Diego in a very nice home with beautiful mountain views. Our property and the surrounding community have plenty of outdoor space where we look forward to hiking and exploring as a family. The property has a very peaceful country feel, yet is very close to urban areas. The schools in the area have some of the highest ratings in San Diego. We are excited to educate our children and help them discover what their passions and strengths are. Our home is an extraordinary place to raise a family.
By Brian:

Sara is the most thoughtful person I know. She has created the most peaceful and joyous home for our family.

Sara is a great wife, because she is caring and great listener who always makes me feel appreciated. She is the sweetener of my life.

Sara is a great mother, because she is so present in the time she spends with our son, very committed to learning and a tremendous encourager of him. He will be able to reach for the stars, because he knows his mom will always be in his corner.
By Sara:

Brian is absolutely the best friend, husband and father to our son I could have ever dreamed of.

He is such a hard working, supportive and effective leader yet so kind, loving and compassionate.

I always knew he would be such a great father. It's been amazing to see him have so much fun with Anders. He is always thinking of the best ways to educate and raise him with high standards and our faith in God in the center of family values.