Our Story
We met through our families. While our extended families had been friends for many years, we had never met each other. Tim's sister-in-law played the role of matchmaker and introduced us. We are forever thankful for her. We immediately hit it off! We began dating and realized just how much we had in common, our love for God, music, the outdoors, and family. We both grew up in close knit families. Tim is the oldest of 3 brothers. Amanda is the oldest of 6 children. This is where our love and care for children began.
As we continued dating our love for each other grew and we were married in the summer of 2015. The past 4 years have been such a joy for the both of us and we can not wait to add to our family through adoption.
Tim enjoys his role as an attorney, helping to advocate for those who have been wronged. He has been involved in forming programs for at risk youth. Amanda is a stay at home wife who thoroughly enjoys her role making home "homier". After college, Amanda was a nanny for two boys ages 2 and newborn. She loved helping them grow and learn. We look forward to adding stay at home mom to her title!
We attend our local church regularly and are actively involved with our small group. It has been so encouraging getting to know 2 members of our group who are adopted and what it has meant in their life. Our group's prayers and encouragement have been a blessing during our journey.
Our Home
Our home is a brick rancher with plenty of space to grow our family. Our backyard is fenced with plenty of space to run and play. Our home is located in a safe, family-oriented community. Our neighborhood has sidewalks throughout, perfect for walking and strolling. There is also a park with a playground just minutes from our home!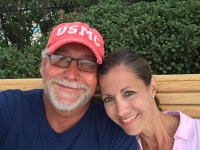 When I first met Tim, I was instantly drawn to his kind heart, authenticity, and steady nature. He is a man of true integrity and compassion for all.Tim and I were dating during the most difficult time of my life, the unexpected tragic loss of my mom. During that time Tim was a source of strength, comfort, and hope. Tim loves well and forgives easily. I appreciate the constant of his love and find it so reassuring and stabilizing.That same love and stability is the foundation that has produced a home that will allow a child to grow and blossom in that safety and security.
When my sister-in-law first introduced Amanda and I, I was immediately attracted to her genuinely loving and caring spirit. Amanda is always upbeat and constantly builds up those around her. I admire her ability to always see the good in a not so good situation and back it up with her thoughts and actions. She has been and continues to be an encouragement to me and anyone she comes in contact with. I can't wait to see how Amanda would offer all these qualities to our child and would bring such affirmation to their life as she has mine.