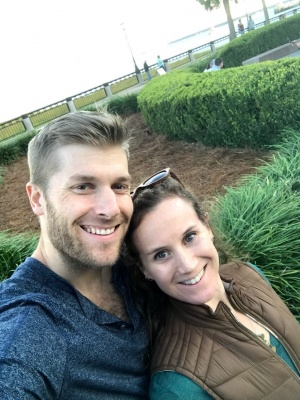 Our Story
We met in college and have been married for 10 years.  We knew from the start of our relationship that we would build our family through open adoption. Our hearts love big and creating our family through adoption is our dream.

We have lived in Atlanta since 2010 and love this city. Brit is a pediatric nurse and Zach is a lawyer. We are grateful that our jobs give us a platform to serve others.  We encourage our children to appreciate and serve their neighbors. 

Brit's favorite thing to do at home is bake, especially when everyone joins in to help! Zach is part of our church's band and often starts dance parties in the living room. We both enjoy children's books way more than we anticipated. 


Our Home
We live in a quiet, but friendly neighborhood in Atlanta. The best part of our community is that it is filled with all kinds of people who care about and look out for each other.

Our home has a front and back yard where we're often playing, especially when it is warm and sunny. Our house may not be the biggest on the block, but there is plenty of room for a baby to complete our family.

Our shelves are filled with children's books about adventure, history and learning. Our playroom is full of blocks, balls and baby dolls that look like our children. And our kitchen is full of fruits, veggies and messy hands and faces baking and tasting sweet treats.
My favorite thing about our family is that we are active. We move, play, and make memories each day. I love trying as many new things as I can and bringing our kids into the fun, whether we're doing gymnastics, rock climbing, taking dance class, or searching for as many new playgrounds as we can find!

My favorite places to be are outside, walking around the neighborhood and in the kitchen baking treats for friends and family. I enjoy a good book and Shonda Rhimes shows equally! I try to show our boys that they can be deep thinkers and, at the same time, not take everything too seriously.

I am a pediatric nurse at the local children's hospital. I love my job because I get to help kids and their parents at the same time. I also love that it is flexible and allows me to be home more than at work.
My favorite thing about our family is that we don't do anything half-way. We love hard, we care a lot about our passions, and we work together to make the world a better place. I am so proud of Brit and our kids, and I know our life will be filled up and completed by another sibling to share in the fun.

My favorite place to be is in our living room with the music turned up, dancing and being silly with our boys. I like to be myself no matter how silly it seems, and I want my children to love and be proud of who they are the same way.

I am an entertainment and media lawyer at a law firm in Atlanta. The best part of my job is that it gives me flexibility to spend time with my family and work from anywhere.