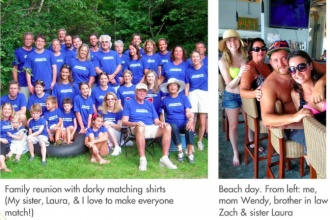 My Story
GANG'S ALL HERE
I have a large, tight-knit extended family that is always looking for an excuse to get together. Anniversaries, birthdays, baby showers and graduations are all cause for big celebration. Family events usually require seating for 15 or more! I am also lucky to have some amazing close friends that I consider part of my family too.

I have received a lot of support from the important people in my life to move forward with adoption and they are all so excited for a new baby to arrive!

THANKSGIVING
Thanksgiving is my favorite holiday and I usually host my family at my home. I am (for better or worse) in charge of cooking the bird! My mom, sister and brother in law get busy working on the sides: two kinds of potatoes (mashed and sweet), green beans, Brussels sprouts, cornbread, mac and cheese, three kinds of pies (pumpkin, pecan and chocolate) - it's enough food for an army! One thing I learned from my grandmother growing up is that you should always include those people who are separated from their families at the holidays. We usually have a big group of extended relatives and family friends to feed.

Of all the holidays, I like Thanksgiving best because it is a day to spend cooking, eating, watching football and movies, napping and just reflecting on all the blessings we have as a family.

To me, there is nothing better than spending that time after the meal on the couch, bellies and hearts full, snuggled up with the people I love most.

CHRISTMAS
Christmas is obviously also a HUGE deal. Sometimes my family likes to start the Christmas season off early and get the tree the day after Thanksgiving! Decorating the tree as a family was very important to me growing up. We would bake Christmas cookies and put on music and write letters to Santa. As an adult, I still get a full sized live tree every year that I decorate with friends and family. On Christmas Eve, my family gets Mexican food, goes to church and then does karaoke!

I throw a holiday party every year for all my friends where a mystery "celebrity" guest arrives in place of Santa to deliver funny presents to all the guests. I modeled this after my grandfather who dressed as Santa every year and delivered gag gifts to everyone at our holiday party - and then hopped on the back of my father's motorcycle so the two of them could take gifts to all the neighborhood kids! One year I could not find anyone to dress as Santa so, instead, we had Elvis! And a new tradition was born. Guessing who will play Santa is part of the fun!

It makes me so happy thinking about sharing these amazing Christmas experiences with a child.

My Home
HOME SWEET HOME
I live in a great neighborhood full of friendly neighbors and many babies and children. A few years ago I bought a large home that I have been fixing up in anticipation of my future family. It's a beautiful combination of antique and modern styles and working on it made me feel like I lived in my very own show on HGTV! It has three bedrooms, including a large bedroom for a child with plenty of room to play and a spare bedroom that I use for my home office and for out of town family members that visit often. My home has a warm, inviting feeling and I can1t wait to share it with a child. I look forward to helping with homework, doing art projects and sharing meals in my home.

The thought of little footsteps running down the halls warms my heart!

My neighborhood is quiet and removed from the hustle and bustle, but close enough to take advantage of the art, food and culture of city life. I am looking forward to taking a child to the museums, performances and
events in my city, but I am just as excited for the quiet times. My neighborhood has a cozy, family feeling - where people say hello on the street and take pride in being a tight community. I can't wait to take a child to all the parks, little restaurants and farmers' markets that really make the neighborhood feel like home. On weekends, it's an easy drive to mountains, farms and beaches, as well as many close friends and family members and I am looking forward to taking a child on road trips to explore nearby areas.