Our Story
We met our freshman year at K-State in the fall of 2011. We quickly became friends and often found ourselves playing on the same team for games of ultimate frisbee. We had several classes together and grew closer as we determined we both had a love for swimming and the outdoors, animals and playing games, plus a lot more. Through the next two years, we worked together to get each other through school and our relationship grew strong. Some of our favorite memories are our adventures to different zoos, since we both love animals, and spending time getting to know each other. In the spring of 2014, we decided to go see one of the best zoo's we had heard of, the Henry Dorley Zoo in Omaha, Nebraska. The zoo was amazing but the most exciting part was when Joshua proposed in the butterfly dome. We were both thrilled that we were going to begin a new adventure with each other! And what an adventure it has been. We were married in December of 2014 shortly after Erin graduated. We then moved to Salina so Erin could begin her full time engineering position; while Joshua began his last school year commuting from Salina to Manhattan. It was a long year, but it was well worth it! The summer before Joshua graduated, he signed on at an electrical engineering firm in Salina and we bought our first home on 28 acres so we could raise a family and have tons of room for them to grow and play.

Our Home
We currently live in a cute little 3 bedroom, two bath home on 28 acres. Gabriella's room is currently purple and we are excited to paint what is currently our spare room a fun new color when we get too meet our next little one!
Joshua is my other half, when I am stressed he calms my nerves. When I worry he assures me everything will be alright. When I stumble he is right there to catch me. He is one of the most gentle and loving men I know; I have absolutely loved watching Joshua become a father. He is always so patient and loving with Gabriella. Josh loves animals and really enjoys taking care of and playing with ours. Joshua really enjoys playing games of all sorts, be it board games or video games or a game of his own invention and he already loves having a little one to play with. Joshua is also the chef of our family, he loves creating and perfecting delicious food for his family and friends to enjoy.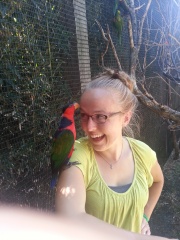 Erin is the foundation on which I base my days. She always has my back in everything I aspire to do. I know I can try new things and she will support me whether I succeed or fail. Her kind, patient, and encouraging nature make her a great mother. These qualities really shine through while she is helping Gabriella learn new things or when Gabriella or I are having rough days. Erin loves to care for all of God's creatures and spends time everyday taking care of our animals with Gabriella. After Gaberiella has gone to bed, she spends her spare time reading, watching TV, or joining in on whatever shenanigans I have been caught up in that day.