Our Story
We met eight years ago on a dating site. Truth be told, Julio ignored Michelle's request to communicate for over a week. Finally, Julio wrote back apologizing for his very delayed reply and blamed it on an injury due to running the LA marathon. Likely story she thought! We met for dinner and shut the restaurant down. The rest is the fun part of the story! On our third date, we went to a Dodger game and neither of us really enjoys baseball. Second inning, a foul ball is coming towards us. What does Julio do? He leans as far over to his right away from Michelle with his hands protecting his glasses to get out of the way. Thankfully, we didn't get hit and vowed to never go to a game again.

Two years later we got married in San Francisco surrounded by 40 of our closest friends and relatives. We've since moved twice out of state for Michelle's previous career in product development, first to Chicago, then Texas (where Luna was born), and back to Los Angeles. After having our daughter in 2014, Michelle switched careers to be able to spend more time with the family and have a flexible schedule. Best decision she ever made!

Our daughter was conceived via IVF after a few attempts. From the first week we met, it was always a mutual desire to adopt a child one day. Over the past couple of years we have been preparing for our adoption journey and we are so excited to expand our family to make us the Party of 5!

One of our most recent date nights, we attended an 80's concert featuring Salt N Pepa, Lisa Lisa, and the Village People. It was one of the best concerts we've been too!

Our weekends are all about spending time together, cooking breakfast at home and eating Michelle's gourmet French toast with fruit, watching Peppa Pig on Sunday morning as a family, drawing chalk art in front of our house, exploring new places in and around the LA area, hanging our hammock at the park and staring up at the sky, or at the beach digging gigantic holes in the sand for no apparent reason! It's just what our daughter loves to do.

Our Home
Our home is located four miles from the beach in Los Angeles, CA. Six years ago we did extensive remodeling to our home with family in mind. Our 4-bedroom house has an empty bedroom just waiting for a new addition. We LOVE our big backyard, filled with play equipment, bird feeders & baths, and lots of room to run around and play. Our neighborhood is filled with tree-lined streets, lots of kids riding bikes or scooters, and families walking their dogs. Julio has lived in our neighborhood for eighteen years, so when Michelle moved in, she quickly had several new friends in our neighbors. We are walking distance from the top rated schools for all twelve years, which is huge for us!

Julio's mom lives less than an hour away from us, so we make frequent trips to spend time with Grandma. Luna goes swimming in her pool and enjoys helping her cook traditional Peruvian food.

Michelle has several relatives in Orange County and San Diego, so it's always a blast to meet up at Legoland for the day or enjoy a meal together as often as possible.

Halloween is a very big deal in our neighborhood every year. We have 600+ trick-or-treaters, so it's one of our favorite holidays. Our neighbors all team up for dinner, because it's so crazy once the doorbells start ringing. We all dress up, blast Halloween music, make any last minute decoration adjustments, and let the party begin.

The 4th of July block parties in our neighborhood are always a blast! Bouncy houses, dunk tanks, water balloon fights, and lots of food get the day kicked off. Our upper back yard deck is where we host lots of friends to enjoy a panoramic view of the various fireworks shows.
(Written By Michelle)

He's the guy you want to sit and talk to. His energy is calming and exciting all at the same time. His laugh is loud and contagious and he'll make you laugh too. The car dancing, well yes, it's true he has moves. He wants to create a show! It's contagious and it's always entertaining to watch the reaction of cars near by when they see him bust a move. The other side to him is devoted and hardworking, which makes me in awe of him and what he's overcome and turned into as a man, husband, and now the best Daddy!
Coming to US at the age of 15 years old from Peru, not being able to speak English was a huge challenge. Despite that, he paid his way through college and got his Graphic Design degree and a minor in Business. His father wasn't involved in his life and died when Julio was young, so being a present father and one who is loving, devoted, and teaches our child to have fun and be in the moment is so amazing to watch. Teaching our daughter to speak Spanish to have the advantages of being bilingual as she grows up has been a priority for him as a father. Our daughter just joined t-ball and Julio agreed to be the coach, despite not knowing the first thing about the game. That's the kind of man and father he is.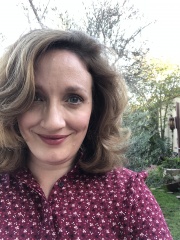 (Written by Julio)

Michelle is a wonderful wife, loving mother, great daughter and a savvy smart businesswoman. I am truly lucky to call her my wife. She is very patient and kind, her Mid-west traits shine bright, plus she knows how to change electrical outlets, fix sprinklers, leaky toilets, which I have no idea how to do! Her Achilles' heel is IKEA furniture assembling.
She did not have the easiest of upbringings, but this did not deter her from searching for a better future. She is the first person in her family with a college degree, and was one of the youngest directors at multiple companies. At the same time, all of that changed for the better once she became a mother, re-invented herself and became a Realtor in order to be her own boss with a flexible schedule to always be able to take care of our daughter. Creating experiences and opportunities for Luna is her focus as a mom, while teaching her to be kind and compassionate towards others. The thing I love to watch the most is when Michelle (aka Tickle Monster) rolls around on the floor with Luna and they are both laughing so hard they are almost crying! That melts my heart. She loves to help seniors and volunteers at our local senior center, assisting with meals every week.