Our Story
We met in college at Southeast Missouri State University where we both attended undergrad and were very active in Greek Life. We knew one another for quite a while before we began dating. According to Holly, she was the one who finally "got the guts" to talk to Kevin but we leave that point up for discussion. We continued to date through college and after Holly graduated, decided to move to St. Louis, MO where we bought a house in the suburb of Webster Groves. Both of us began our careers and at one point, Holly even went back to school to obtain her Master's degree which she completed in 2017.

Throughout the years we have adopted four animals together, two dogs and two cats. The dogs, a redbone coonhound, Red, and a black and tan coonhound mix, Bubba, quickly grew larger than expected but they could not be gentler animals. We love spending time outside with them, playing in the backyard, and going for runs and walks. The cats, Boots and Charlie, are close companions of the dogs and get along great. All of the animals spend countless hours together and have been known to sleep all four in bed with us at night.

Outside of work, we both enjoy working on our house and coming up with new DIY projects. Holly comes up with the ideas and Kevin does his best to find a way to make it work. After numerous projects over the past 5 years including a complete basement remodel, we still have a lot to learn about home improvement. In addition, we are huge fans of the St. Louis Blues and Cardinals and go to as many games as possible. When not working on projects or watching St. Louis sports, we can be found outside, exercising, golfing, BBQing with the neighbors, or trying new restaurants around town.

We have been struggling with infertility for 4+ years. Our hearts have been led away from fertility treatments and onto something so much greater. We have always known we were meant to be parents and cannot wait to become parents through adoption. We are very excited about the opportunity to make a permanent difference in a child's life and to grow our family.

Our Home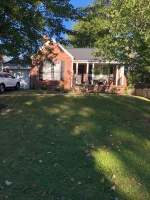 We live in a small suburb of St. Louis, MO called Webster Groves. Webster is known for being filled with trees big and small. We bought a "fixer upper" and have made a house our home. We finished the basement making our home a 3 bed 2 bath ranch style house with a fenced in backyard with plenty of room to run and play! After moving into our home, we quickly grew close to all of our neighbors. Five years later, after numerous vacations, block parties, birthdays, and neighborhood holidays, they have become more of a family that lives next door. We are in walking distance of many parks, schools and churches. We love our community and enjoy spending time in Downtown Webster and Old Webster trying new restaurants and walking with our dogs to get ice cream!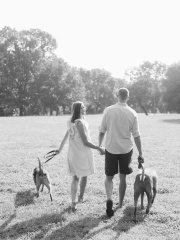 I admire Holly's love for children as well as her strength and courage as we have worked through the infertility process. As a teacher, Aunt and neighbor, her ability to connect with children of all ages is incredible. She is so patient, caring and sweet that she can immediately brighten your day.

Her smile lights up a room and her ability to bring joy to a child's life is amazing. Through her years of teaching, being a nanny and interacting with nieces and nephews, it is truly wonderful how quickly she can form a bond with kids and parents.
I admire Kevin's work ethic at home and at work. He has great morals and I admire that he takes pride in our marriage, our home and our animals. He is always willing to help others and always looks at the best in people.

He is a very focused, goal oriented, funny and quick witted individual. He cares about his family, which has always been a focus area of his life. He is very laid back and gets along with anyone.