My Story
I grew up in New Jersey, within 20 miles of New York City, and went to college in Boston, a city that I still love. I am a special education teacher and have tremendous patience with students who have struggled in school. I find joy in helping my students succeed and build confidence in themselves.

I also work at a local theater. I enjoy interacting with the people as well as the opportunity for being present for Broadway shows, concerts or comedians.

I'm single and live in close proximity to many family and friends! We gather often to celebrate holidays, birthdays, and other special occasions. It's important to me to have a strong support system to share life's moments. They are all excited at the possibility of welcoming a little one into the bunch!

For over three years I was a foster parent to a little boy. I raised him from ages 1 to 4 and it has been the greatest joy in my life. While he was in foster care, his birth family and I chose to attend festivities together such as Sesame Street Live, Paw Patrol and Christmas events. His family and I continue to have contact and spending time with him is amazing.
My Home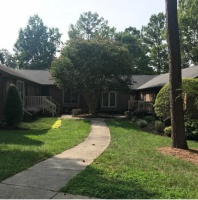 I live in a culturally diverse city that has a focus on the arts, museums (for people of all ages), and parks. There are also multiple universities which contribute to an educated society, good school systems and state of the art medical facilities.

My neighborhood has a mixture of young families and active adults. There are plenty of beautiful trees, biking and walking trails.
Karen is independent and often spontaneous, with both a sense of
adventure and an appreciation for routines. She continues to enioy reading traveling and spending time with friends. Karen identifies herself as a "foodie" who loves to cook and eat good food. She enjoys outdoor activities like hiking as well as playing Scrabble and other indoor pursuits.

She enjoys getting together with friends and family for birthdays, holiday parties, Thanksgiving dinners, spending New Years Eve and more. It is important to her to create traditions with those that she loves.

About Why I Want To Adopt
"It is through my work with children with special needs that I realize my strong maternal instinct and desire to nurture. Some of the best moments of my life were twice finding out I was pregnant and IVF and IUI. The messages on those pregnancy tests were full of hope and promise for the future. Unfortunately, I miscarried both times.

After the heartbreaking losses, I turned to foster care. I have taught several students that were in foster care and therefore understood the overwhelming need for loving homes. I naively convinced myself that as a teacher, I was used to students coming and going each year and providing short term care for a foster child would be similar. I assumed that I would care for a few children and eventually be able to move forward with adoption.

In January of 2015, at the age of 12 months, my foster son came to live with me. The social worker brought him through my door, snuggled in an infant car seat. She pushed the cover back and he looked up at me with confused, yet gentle, eyes. My love for him was instant. I cared for him like he was my own for over 3 years. I showered him with love, helped him love learning and taught him about the world. My family became his second family and he quickly became part of ours. We attended therapy together and we took kid-friendly vacations (a new experience for me). To date, he has been the biggest joy in my life.

After caring for him most of his life, he was reunified with his mom. I was heartbroken. My heart cannot endure that separation again. It was at that time that I decided to pursue adoption."