Our Story
We met at a mutual friend's party in February 2004 while attending the University of Minnesota. We had a few phone conversations and went on our first date two months later. We have been together ever since and got engaged in 2013. In August 2015, we had a fantastic wedding, and celebrated with all of our family and friends at a popular concert venue in Minneapolis.

As early as our first date, we have discussed wanting to be parents and have always known that adoption was our preferred path towards fatherhood. We have a very large and supportive network of friends and family who are eagerly awaiting a new addition to our family.

Ryan works as a development manager for a human resources company and Peter is a social worker at a local hospital. We have two very sweet dogs, Mimi and Jake. They would very much like to have another member of the family who loves to play as well as take long naps.

Our favorite moments are spending time with family and friends, but also love being together at home. We have built an amazing life together and are ready to share it with a child!

Follow us on Instagram: @ryanandpeteradopt
Our Home
We live in suburban Minneapolis and are five minutes from the city. Our home is close to schools, lakes, nature centers, and restaurants.

We live within 20 minutes of both of our immediate families, as well as several close friends.

We live on a safe, family-friendly street that is walking-distance from two parks. Our neighborhood is diverse and filled with lot of young families.
Ryan is a fun, caring person who cherishes time spent with family and friends. He loves children and is very excited about becoming a father.

His parents live 20 minutes away and he has a younger sister in Iowa, whom he is very close to. Many of Ryan's favorite moments are created when enjoying time with family during holiday celebrations.

Ryan is a Client Services Manager for a Human Resources company. He spends his days managing partnerships and training staff. He loves his job and works with some of his closest friends.

Ryan enjoys exercise, old school music and tv, and creating new experiences. He is happiest when he's spending time with Peter--whether it is traveling to new cities, watching music videos, relaxing with the dogs, or trying mac & cheese at every new restaurant they visit. He can't wait to share all of these moments with a child.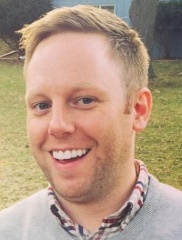 Peter is a warm, thoughtful person who cares deeply for his family and friends. Ryan and other people close to Peter know him for his sense of humor. As a future parent, Peter looks forward to raising a child in a home with a lot of laughter.

Peter works as a social worker at a hospital in the Twin Cities. He finds his career in social work to be very rewarding and feels most fulfilled when listening and offering support to others.

Peter's favorite things to do usually involve Ryan; they spend a lot of time together going on trips, hanging out with family, trying new restaurants, walking their two dogs (Mimi and Jake), or having game night at home.

With Ryan's support, Peter has devoted a lot of time to pursuing higher education. Peter volunteers his time at a local community counseling center. He has ran five marathons and is currently looking for number six. Peter hopes to instill the importance of hard work, education, caring for others, and living an active lifestyle in his child.