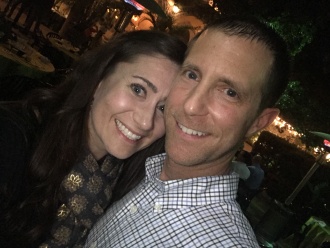 Our Story
It all began when we met on a dating website "before it was cool". Our first date was a little awkward, and we get a good laugh over the first handful of dates and misadventures. We bonded quickly, and soon we were running on trails together, cheering on our favorite teams at sporting events, and spending time with family and friends. The proposal took place when we were vacationing with family friends in New Mexico. We walked around the small little ski town and at midnight on New Years, Mike proposed in a Christmas lighted gazebo. A couple months later we were married at a small, simple outdoor ceremony surrounded by family and a few close friends.
Our Home
We really enjoy our home. It is a four-bedroom, 3.5 bathroom house with an open floor plan. The kitchen is open into the living room and dining room. Mike and I wanted to be able to have a casual, open feel to our home and we like to be able to cook and clean while chatting with friends, watching a sports game, etc.

We have a nursery room that is on the same floor as our bedroom with its own bathroom and tub. It's definitely a room that will grow with a child and we are so excited to use this room!

We also have a designated play area inside the house and have a nice flat outdoor yard with a patio that we grill out on all the time.

We live within walking distance to a park with swings and slides and big open fields for running and playing. We've made several trips to the park with our friends' kids.
I love Mike's dependability and humor. I can always count on him, and he makes me laugh every day!

He's a loyal friend. When were dating, it became apparent really quickly because he maintains close friendships over time and distance.
He's great at projects around the house. He's also always there with a helping hand when I need one.

Mike is an incredible planner. Whether it's when we travel or when we are getting ready for a busy week, he's great at putting together the details so the trip or the week goes smoothly. And if it doesn't go smoothly, we are prepared to make adjustments.

My favorite time together is our walks in the evenings - THE BEST! We walk our dog Millie and talk about our day and other little and big things in our lives.

Mike will be a great father because he is patient, thoughtful, and makes sure quality time with friends and family are a priority. He has a strong faith and a calm steady presence. When I look at all that can happen in the world, it's so comforting and reassuring to have a strong, best friend and protector that does so much to make sure his family is safe and happy.

Favorite activities:
Running, traveling, baseball, walking Millie

Favorite food:
Italian, Blue Bell ice cream, chocolate

Favorite travel:
Alaska in the summer :)

Work:
Physical Therapist

Special Talents:
Witty comments

Projects:
Constructed a turkey feeder, built a cabin with a friend in Alaska, painted, helped with garden

Dislikes:
Really cold weather
I love how Brooke always looks at life creatively. Her bedside table is always stacked with books. Besides reading, I love how she enjoys the outdoors and is adventurous.
When we were dating, I noticed how Brooke balanced being a smart professional in the business world, staying active and maintaining close friendships.
Brooke is a great cook and enjoys making healthy meals for her family.
I love it when I get home from work and am greeted by Brooke so we can talk about our day. She is also a lot of fun when we are preparing for hosting friends and their kids when they come over to our house whether it's for a dinner or just some s'mores in the backyard.
Brooke will be a good mom because she is very caring. She loves kids (has spent time helping with kids groups and loves having her niece and friends kids over to the house). She is studious and she is an excellent teacher - very creative with kids in helping them grow.

Favorite Activities:
Riding her bike, reading, photography, hiking, walking Millie

Favorite Food:
Fresh tomatoes with garlic salt, dark chocolate, homemade pizza

Favorite Travel:
Sandy beach

Work:
Fitness instructor

Special Talents:
Photography

Special Loves:
Mike, dog Millie...any other dog, her two young brothers, collects children's books

Dislikes:
Unkindness, arrogance