Our Story
We met through friends in 1999. We very quickly realized how much we had in common, including our friends, family backgrounds and future goals. We enjoy the same foods, tv shows, movies and have a similar sense of humor. Vic loved that Denise always laughed at his jokes. We immediately fell in love. It was so easy to be together right from the start. Even our parents have become good friends. Denise was working and in graduate school. Vic was in his second year of medical school. We spent our time together enjoying life, but also working hard. We were married in 2001. Our wedding day was the happiest day of our lives. We are as much in love now as we were 18 years ago. We are best friends. We make time for ourselves by occasionally going out to dinner and by watching movies at night after our children are in bed.

Our Home
We have lots of children in the neighborhood. We like to play outside in our pool, on our playground & trampoline or to just run around on the lawn and play soccer, wiffle ball or volleyball.

We love to play in the snow with our dog and neighborhood families. We have a small wooded area behind our backyard. On the other side, there is a nice size hill, perfect for sledding.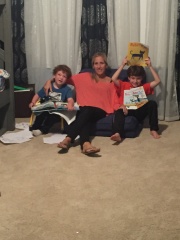 I have been with Vic for 19 1/2 years and I've been a mom for almost 14 years. I love my husband and being a mom. I love snuggles and making delicious, healthy food. I love being outside in the sun and fresh air. I enjoy participating in school activities and watching my boys play sports. I enjoy spending time with my family, including parents and in laws and with my girl friends.

My day typically goes as follows:
Get the boys fed and off to the school bus. Clean the house, laundry, shopping, prepare dinner.
Get the boys off the bus. Listen to exciting school stories. Drive and pick up for practice, play dates, etc. Help with homework and reading. Feed everyone and clean up. TV, snuggles and bedtime.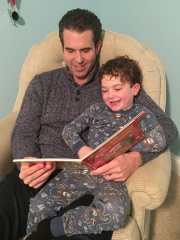 I am a doctor, a husband, a father, a baseball coach. I help with homework, I taught my boys to swim, surf, water ski. I'm happiest when I'm busy, although I love a nap and sleeping in (rarely happens).