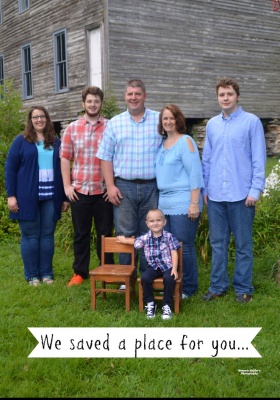 Our Story
We met 26years ago at a craft festival. We dated for a year and then we married. It has been a very happy and stable 25 years of marriage. we have 4 children, 3 of which are grown. Our youngest is adopted and blends perfectly.He was adopted through a private adoption at 6 months. Our family, our faith, and friends make our life happy and healthy. We actively work with our church and in our community. We also enjoy spending time together and riding through the mountains. Our youngest child keeps us moving and on the go all the time. We love taking him to swim lessons and baseball practice. We also home school him and stay active in social events with other families throughout the week.
Our Home
Our 4-bedroom, 3-bathroom brick ranch home sits on 3 beautiful acres. The house was built in 1968 and was recently renovated, but it still has so much charm. We love it so much that we have lived here 24 years. It's an amazing home to raise children in. On our 3 acres we have goats, chickens, turkeys, cats and dogs. We love to grow a garden every summer and enjoy eating fresh produce from it. There is never a shortage of fun with all the animals either! One of the 4 bedrooms is already decorated and ready for another child to come into our family.
I love and support all my children. I enjoy spending time with them and teaching them how to fish, work on things, and helping them with homework. I accept their different traits and skills. I also love to play the piano and teach others how to play the piano.
I am a very forgiving and accepting parent. I love to teach my children and play with them I enjoy working with their differences and teaching them with their learning style.I love home schooling them! I am always very supportive of their decisions. I love spending time with my children. I am grateful to be a stay at home mom. As a stay at home mom I am available for the kids. Adoption has always been apart of my life. My parents adopted my sister who is three years older than me. I also have several cousins who were adopted and we are close. I always wanted a house full of children and knew that adoption would be apart of our family. I have seen how adoption changes lives. I enjoy and love being a mom and enjoy being an active part of my children's life even as adults.