Our Story
It started in Hendersonville, NC on August 8th 1998.
Cristina had a part time job working in a toy store in the mall called KB Toys. She came in to work one day, on her day off and saw me standing in the middle of the store with one of my best friends. There was an awkward glance at one another, love was in the air.
I came to the register where Cristina was standing and purchased a Ghost Rider action figure. It was clear we liked one another. When I made my purchase and exited the store, the store manager told Cristina, "I can tell you liked that boy." She left the store and brought me back with her.
I swaggered up the counter with all the confidence I could fake and asked Cristina to dinner that night. We met after she got off and had a wonderful first date. The relationship started with a major challenge because I was leaving for graduate school in another state the following day. Nevertheless, we maintained contact and kept finding ways to make the relationship work for four years of separation while I was finishing my doctorate degree. We haven't looked back since.
We now live in Virginia with our dogs Deuce and Nala. We have a lovely two-story home that is surrounded by 250 acres of beautiful mountains and hills.
We have the opportunity to go horseback riding and stay active in outdoor activities. We are only about 45 minutes from my mother, Grandma Daisy, who is excited about the prospect of future grandchildren.
Cristina's parents are also excited about more grandchildren and they live in Texas, which will give us the opportunity to share that travel time with our future children.

Our Home
Our home is in the countryside surrounded by beautiful mountains that burst with color every fall.

We are surrounded by 250 acres of breathtaking beauty, where wildlife passes by. We get to see deer grazing in the pasture, wild turkey taking flight and settling in the hills. We see bluejays and robins posing on our deck and the occasional hoot of an owl filling the silence of our night sky.

We are far enough out of the city to enjoy the beauty of shooting stars, yet close enough to go to the stores in town as needed.

Our home is a 2 story home with four bedrooms and two bathrooms. We have a wonderful over-sized deck that surrounds the entire back side and part of the side of the house. It has a built- in gazebo, where we barbecue in the spring and summer.

There is so much space to run free and climb trees.

I'm quite loyal and hard working. Relationships and parenting both require lots of effort. I totally immerse myself in whatever I am doing so I find myself committed to finding ways to get better at whatever I do.
I read about the challenges I'm taking on and try to learn about them, but I am also willing to learn from experience and learn from my own mistakes.

I work to find balance in my life by recognizing the important things in life and giving them priority. I try to keep my attention on the important people in my life to determine if they are in need of something I can provide for them. For example, if Cristina is stressed from work, I try to find something to do to get her mind off of the challenges she's facing.

I believe these traits will make me a great parent because parenting requires my attention to the needs of children. I can read and study about parenting, but, like all parents, I'm going to be learning as I go. As an educator, I have some experience with seeing young people trying to figure out how to be successful. I've learned how to watch for their efforts and show them how to adjust what they are doing in ways that can make them more successful. While this is not equivalent to parenting, it has given me an idea of what kind of parent I will be. I will be the kind of parent who will be learning along with the child, but also letting the child know that it's okay to make mistakes. We'll learn from them and we'll both get better.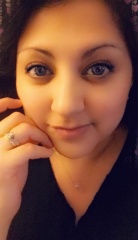 Hi I'm Cristina,

Seems like we have been answering so many of these types of questions since we began this journey. I always feel kind of funny talking about myself this way.

Oh yes, I'm an amazing wife and would be a fantastic mommy. It seems just kind of forced. You want to know the truth about me?

I'm married to the man of my dreams, I love my husband. It was love at first sight.

Yes! I want to be a mommy. I've known since I was 12 that I wanted to have a family. In fact I started picking names out for my children before I was a teenager.

I am the oldest child in my family, there are 5 of us. So I was taking care of babies, changing diapers, up for late night feeding by the time I was nine.

I love it, I love children. I love their honesty, their cute little toes and fingers. The sparkle in their eyes, I love the fact that they are just that at the moment... perfect little human beings.

Children are awesome and I can't wait until the day that my wonderful husband and I get to raise our own.

The trait that make me a good partner and that would make me a great parent...LOVE