Our Story
Derek and I met online of all places (how perfect that this is how we will grow our family?!)
I was living in New York where Derek was born and raised, having completed nursing school and was working at a hospital in Manhattan.
When Derek found my profile we started talking and hit it off right away. I was sick and on vacation at the time, and he checked on me every morning.
Once meeting in person, there was something there I knew it right away. We laughed the whole date, played pool and gave each other a hard time. At the end of the date, I was so excited about this man I met I couldn't even give him a good night kiss. He accepted my hug like a gentleman he was raised to be, and checked on me to make sure I got home safely. We continued to date multiple times a week after that, got engaged a year later and then planned a cross country wedding in my home town of Snohomish, Washington. We married on the 3rd anniversary of our first kiss and continue to be as in love was we were on the day we vowed to love each other forever.
Derek and I life has been an adventure. It's amazing to us that a small town girl and a big city boy share so much in common. We love baseball, and we spent many of our date nights in New York at Yankee's games. I have spread my travel bug to Derek, and we love to travel by car all over the country camping at national parks, camping, hiking and kayaking as much as we can.
We are faithful people and believe strongly in the importance of education. Derek and I are life long learners and enjoy visiting historical sites, museums and doing more formal education.
The most important parts of our lives though is our family. Derek has a brother and sister-in-law who have two girls who are the light of our lives. He also has a mother who raised them, and a sister and brother-in-law. They are in New York and we love to visit for important family events and holidays.
In Washington State, where we are now, we are surrounded by my family. My mom and dad who are happily married and such a great support to us. My grandmother who is the youngest 81 year old you will ever meet. We love her so much and spending time with her doing zip lining, concerts and camping has been such a treasure to us. I also have a cousin who is more like a sister to me, who has a husband and two children who we spend time at the park, baseball games, or just hanging out.
We spend a lot of time with our friends as well. We are truly blessed by how much love we are surrounded with in our lives.
Our Home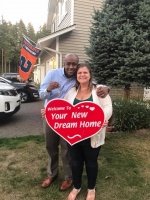 We bought our first home in late fall in 2017. We bought so we could have a safe, secure, and stable environment for bringing a little one in our family.
Our neighborhood is a family friendly cul-de-sac with many children, and different ethnic backgrounds. We often see the kids all playing in the private community park or riding their bikes and every October tricker treating in this small community where we all know each other.
Our home is a two story where it would be easy to mount guard gates on the one stair case. We have 1-1/2 bath with all the bedrooms on one level. We have 3 bedrooms, a fenced back yard and an open front yard with garden.
Our community is very quiet with most the noise from neighborhood dogs barking and playing in their own back yards.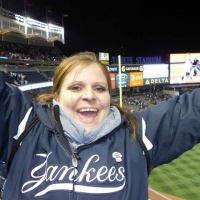 Lisa is an amazing woman. She is genuine, dependable, loving and is a natural caretaker. She is a beautiful person with a childlike spirit. She has been such a light in my life.
When I see her with my brother's children she engages with them, she is generally interested in what they have to say and they love to do dance parties. She spends as much time as she can with our best friend's children, planning unicorn hunts, playing with the dogs, camping and loving on them. She is good with their 22 year old son all the way to their 1 year old daughter. She amazes me with her comfort of conversations and coming up with fun activities for us all to do together. She is a mother without a child and I would love to help give her what she so desires.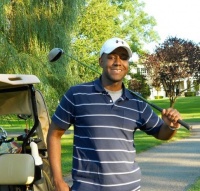 I love my husband. When I met Derek I fell in love with his generosity. He is one of the most thoughtful and polite people I have ever met. He makes me a better person just by being with him. He is dependable, has strong moral values and cares for people which shows in his chosen profession.
When I see Derek with our nieces, with our friends children I see a father. They all adore his physicality that allows him to run with them, lift them in the air and crawl around on the floor with them. They trust this man with their safety and they have no reason not to. Derek looks forward to playing with them and talks about how he enjoys watching them grow, gain new skills and mature. I hope that he will have the experience of watching a child grow in our home, helping them figure out life and loving them each step of the way.