Our Story
We started dating on Valentine's Day 2009. Jesse took to Jamie immediately. Jamie took awhile to come around. (He just seemed too good to be true!) But, once Jamie followed her heart a deep love grew. We knew that we were meant to be together forever!

On May 10th, 2014 we got married. Nothing felt better than having all of our favorite people under one roof, celebrating our love and marriage.

We tried to have kids immediately and with no luck for over a year, we sought professional help. We decided to do some more invasive treatments and right before we started, we found out we were pregnant! We were beyond excited. At the 12 week mark, we got a call from our doctor. He said we were having a baby girl, and that she had Down syndrome. The diagnosis came as a shock to us, but we were not going to let that get in the way of our excitement of becoming a Mom and Dad!

On December 10th, 2015, our beautiful daughter Maggie was born. She immediately filled our lives with so much joy and happiness!

Shortly after having Maggie we went back to the specialist to find out that more kids wasn't likely. We knew we wanted to adopt to grow our family. The three of us (and 2 dogs!) have so much love to share!

We keep a happy and healthy household by reminding each other that love and kindness always rule!

Our Home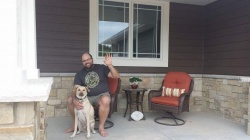 We were so fortunate to be able to build our dream home. We live in a brand new neighborhood with lots of families and kids around. The subdivision is close to all of the great schools, parks and other great activities in our town. There is no through traffic so there are always families walking and kids riding their bikes. We live on a hill and have a breathtaking view of our city. It's very close to town yet offers the peaceful atmosphere of being out in the country. We often have deer running through our yard!
We built our house to entertain and love having family and friends over for gatherings. We even host our big family Christmas every year.
I am Jesse. I bought my own business at a young age and put my heart and soul into making it what it is today! I worked long hard hours in the beginning which allows for a much more flexible schedule now. In my free time I enjoy being with my wife and daughter. I love going to hear live music and even on occasion, being able to sit in with the band. People would probably describe me as a hard worker and loyal friend, husband and Dad. Jamie would probably say I'm loving, affectionate and funny. I have a very laid back personality and always see the glass as half full.
I am Jamie. I am a scheduler at a medical complex in my hometown. I love my job and working with people. But, my favorite job is being a Mom! I have had a knack with kids early on in life and always had the need to snuggle any baby in my sights! In my spare time I enjoy taking walks in our neighborhood, being with my family and friends, and spending time at our family cottage on the lake. If I had to guess, I think people would describe me as happy, loving, spiritual and strong. Jesse might add that I love to be the center of attention and always try to one up everyone with my sense of humor.