Our Story
A little about us! We met in New York City in 2008 and quickly realized we wanted to
start a life together. We both came from large Midwest families and similar backgrounds
and knew that we wanted to have a child one day. It has always been our most
important goal. Our families mean everything to us and we are so excited to add
another branch to our loving family tree.

Our Home
We now live in a Los Angeles, California in a beautiful neighborhood surrounded by
families. We love having people over to our house for dinner and even have a yard for
cookouts. We frequently take walks to the nearby hiking trail or going to the beach just a
few miles down the road.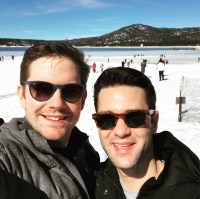 Gerold is a strong, hilarious and loving man who comes from Indianapolis originally. His
top notch organizational skills make him a great executive assistant. He has two
brothers and his dad is one of 11 so Christmas dinner at his parents house has over
100 people. Literally! Gerold has a real love for music, film, and many of the arts. Gerold
works incredibly hard at his job but he measures his success in his relationships. He is
extremely loyal to his friends and loved ones and will do anything for them. Gerold was
a nanny for several months for four of his young cousins and is very gifted with kids.

Rory is an actor who is always loved performing and participating in the arts. He started
out as a singer at a young age and grew to love being in theater. Rory has a
tremendous amount of love for his family back in Cleveland, Ohio where he grew up.
His mother gave the courage to follow his dreams and he has been lucky enough to
earn a living as an actor. His entire family is supportive of him. Rory's mom is one of
seven so his family gatherings are huge events as well. He has cousins who live nearby
in Los Angeles with children of their own and he is very close with them. He always
jumps at the chance to babysit. From early on in life Rory has wanted nothing more than
to be a dad.