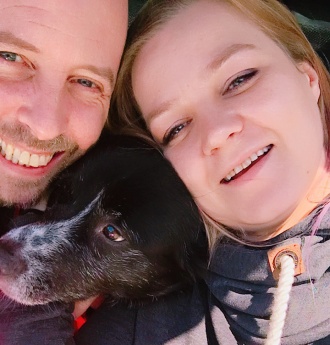 Our Story
Mona will say that their journey began back in the middle ages, when the Norwegian Vikings first invaded the UK, from that point on it was written in the old Norse books of lore that they would meet.

Stuart would laugh insisting it was English charm that drew them together. Regardless of the who, what, when and how.... something 9 years ago clicked when we got together and we have not looked back since. Stuart was still working in the UK and Mona in Norway when we first met, having a flexible job really helped out and Stuart moved to Norway a short while afterwards and we lived together on a small farm in southern Norway. We enjoyed the delights of fresh food and the amazing Norwegian culture. Then 7 years ago, came the call. Would Stuart be interested in relocating to the US with work? We made the decision as a family and jumped on the opportunity!

Fast forward 7 years, and here we are! Living in beautiful Washington as residents, we married (next to a waterfall), bought a house, and declared this was it for us, having found our home and roots. We knew after 6 months we had found where we were meant to be. Now we are on the next part of our journey as a family, a journey where we are hoping to add the tiny pitter patter of feet to our home and complete our loving family.
Our Home
Please check back soon for updates.