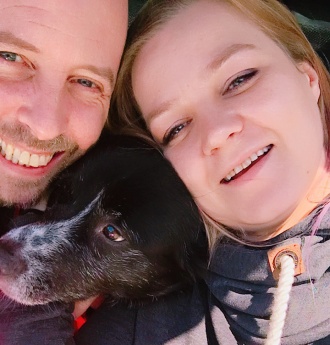 Our Story
Mona will say that their journey began back in the middle ages, when the Norwegian Vikings first invaded the UK, from that point on it was written in the old Norse books of lore that they would meet.

Stuart would laugh insisting it was English charm that drew them together. Regardless of the who, what, when and how.... something 9 years ago clicked when we got together and we have not looked back since. Stuart was still working in the UK and Mona in Norway when we first met, having a flexible job really helped out and Stuart moved to Norway a short while afterwards and we lived together on a small farm in southern Norway. We enjoyed the delights of fresh food and the amazing Norwegian culture. Then 7 years ago, came the call. Would Stuart be interested in relocating to the US with work? We made the decision as a family and jumped on the opportunity!

Fast forward 7 years, and here we are! Living in beautiful Washington as residents, we married (next to a waterfall), bought a house, and declared this was it for us, having found our home and roots. We knew after 6 months we had found where we were meant to be. Now we are on the next part of our journey as a family, a journey where we are hoping to add the tiny pitter patter of feet to our home and complete our loving family.
Our Home
Washington State became our home over 7 years ago, we managed to find our forever home in the perfect location. We live in a rural city, about 40 minutes outside of Seattle. Nestled in a lush green deep valley with the beautiful Snoqualmie river flowing through the middle. We have mountains 20 minutes away, an amazing family park less than a minute from our front door and are spoilt by having some of the best schools in Washington state in our city. All topped off by being so close to all the nature and trails you could imagine!

Our home was a new build, so we were fortunate to choose our own house plans. It is a large open space home, with downstairs fully open plan and light. We have four large rooms upstairs and A/C for the crazy warm summers we get. If we are honest we have already picked the room we hope to use as a nursery for you child!

I AM ONE OF THE LUCKY ONES Mona is my best friend and I managed to find her and end up married to her! For all my weaknesses Mona's strength fills in my gaps. I have never met someone so strong, so empathetic and caring for others. As cheesy as it sounds, I would be lost without her by my side. She is confident and so driven, and when she puts her mind to it, nothing gets in her way, including me! She is generally quieter and more thoughtful than I am and that lends perfectly to balance our relationship as I tend to be leap then look. She is my grounding stone and safe place to fall. She is the heart and soul of our family, always planning our fun adventures with friends and where we should be focusing our energy. Just hearing Mona's laugh makes all around her smile and join in.

Mona spends more time thinking about others than herself, which becomes so clear when you see her at her job as the Toddler Lead at a local school. It is truly a thing of beauty to watch Mona interact with her toddlers, the love, compassion and interaction is a sight to behold (I have often snuck down there just to watch through the window, and it's a delight to watch the toddlers just gravitate towards Mona). It just becomes so clear that Mona was born to be a mother, it's in her DNA!

MY 'SOULMATE' IS WHAT I WOULD SAY If I had one word to describe Stuart. After 9 years together we have almost become one, complimenting each other at every turn. There is nothing I cannot share with him, nothing I could never ask for help with if I needed. I know he would always be there for me. I could not ask for a better husband to be raising your child with. He is a strong proud man, who takes pride in providing for our family and way too logical for his own good sometimes.

Stuart is talkative to say the least! He is a people magnet and loves to be in the spotlight, his work lets him do this, so he gets to spend a lot of time on stage doing what he loves. Stuart is a full on morning person (I am not) from the moment he opens his eyes, he is talking away!