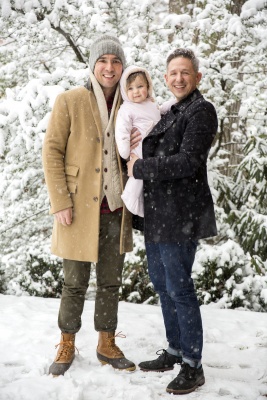 Our Story
We've always wanted to become parents, and the journey of building our family has been a life-changing experience. We felt that adoption was the right path for us from the very beginning and we were so excited when our dream came true and we adopted our daughter Margot in October 2016.

We have so much respect for Margot's birthmother and it has been an honor to open our hearts and family to her. Margot will always know how loving and courageous her birth mother is; she will always be a part of Margot's story.

When we started to consider expanding our family again, we knew that adoption was the way to go. In our opinion, there is no better way to start a family!

We're so thrilled to find Margot a little brother or sister. We have so much love to give and promise that your baby will be raised in a happy and supportive family filled with unconditional love.

We are committed to accepting our children for who they are and to giving them the support and resources they need to grow and learn. We want them to be the best people they can be and to be able to follow their dreams.

We met eleven years ago, but didn't officially start dating until we bumped into each other on the street a couple years later. Timing really is everything! Since then, we've never looked back! Our relationship grew into a lifelong commitment. We were married in 2016 and now everyone calls us 'the Joes.'

We provide each other love, strength and friendship. We share so much in common and love spending time together. We are avid travelers and are also passionate about fitness and playing tennis together. We love meeting new people but most importantly we love being around family and friends.

We welcomed sweet Margot into our lives in October 2016, and to say that our worlds were rocked in the most amazing of ways is an understatement. Margot's loving spirit brings out the best in us as a couple and as individuals, and is the foundation of our family.



Our Home
We live in New Jersey right outside of New York City. We love our town and home! We are close enough to New York to take advantage of all the things we loved about the city when we lived there but far enough away to enjoy the quieter family life our town gives us.


Our neighborhood is actually a historic district so there are lots of beautiful old homes. Our home was built in 1900 and we knew the second we walked in that its where we needed to raise our family. It just feels like home to us. It's the perfect place to gather with family and friends and everyone feels welcome and comfortable.

It's an incredible place to live with a really wonderful and diverse community with lots of families and kids. We have great neighbors and friends nearby, and we really feel like we're part of the community. It's also beautiful with a cute downtown area and park (with the best sledding hill around for wintertime fun!).
My family is from upstate New York, which is where I grew up and my family still lives. Family has played a strong role in my life and in shaping who I am as a person. I have Italian heritage on my dad's side and Polish and British heritage on my mom's side, and both families have created traditions that I hope to pass on to my children. In particular, holidays were always special times filled with family gatherings and plenty of food. I had a special relationship with my two grandmothers, both of whom have passed. I miss them but keep them in my heart always.

I'm very close with my parents, Lyn and John, who are amazing grandparents to Margot and London, 6, and Payton, 2, the daughters of my sister Julie and brother-in-law Mitchell. Although they live a couple of hours away, I have a close bond with all of them and speak to and see them regularly. Julie is an amazing mother and a great female role model for Margot. My extended family is filled with many loving aunts, uncles, cousins and close friends. Everyone is so excited to welcome another baby into our family!

Most of all, I am honored to have such an amazing husband in Joe and wonderful daughter in Margot. Together we have formed a family filled with love, trust, and closeness. Being Margot's dad has forever changed my life in the most amazing of ways, and the love I have for her has shown me that I'm ready to share my heart and family with another child.


I grew up in New Jersey. I also have Italian heritage on my dad's side and German and French heritage on my mom's side. Family was at the core of my life growing up. I have a large extended family so there always seemed to be relatives close by ready to celebrate a birthday, go to a cousin's baseball game or just stop by for a visit. Big Sunday dinners were a weekly tradition and holidays were always a special time. We went on family vacations to the beach every summer with lots of cousins and close family friends. I'll always have great memories from these trips and can't wait to do the same with my family.

I'm still close with my parents, Paul and Donna, and have three brothers. Most of my family lives close by so they all love regular visits and spending time with Margot. They are so excited for another baby!

My childhood friends were also a really important part of growing up and I consider them to be part of my family, especially my closest friends Brooke and Lindsay, and their girls Bernadette, 6, and Adele, 4. They live very close by so the girls are like sisters to Margot.

Being a husband and then becoming a Dad has been the most incredible experience of my life. I am so grateful every day to have such a beautiful family. Margot fills my life with love every single day and it's an honor to be her Dad. I know she's going to be an amazing big sister and can't wait to welcome another little one into our family.