Our Story
We met in college through a mutual friend. We hit it off immediately. We only had to go on a few date before we realized that we were meant for each other. We dated for about a year and a half before we got married. Our wedding day was absolutely perfect and still makes me so happy every time I look at our pictures. We've been married now for six years and have had a lot of experiences together, some good and some hard, but through it all we are still just happy to be together. We enjoy spending time together and with our sweet little dog Stanley. We are looking forward to many more years of memories as a family.
Our Home
We purchased our home in June of 2017. It's a ranch style house with three bedrooms and one bath. The house is situated on a spacious .5 acre lot. The home is nicely appointed and the interior is modern, warm, open, and well-organized as it was recently remodeled.
Michael is a friendly, intelligent, and laid-back person. He is steady and patient. He is dependable and follows through on promises and tasks. He is good at instructing and guiding other and will be a very loving and patient father.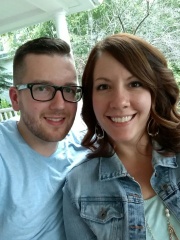 Kristina is a caring and compassionate person who loves to care for her family. She loves to laugh and enjoys spending time with others. She has always wanted to be a mommy and will provide a lot of love, care, and guidance to her children.