My Story
Being a Mom is the single best highlight of my life. I have my four year old daughter Isabella, whom I adopted. Together Isabella and I enjoy being together, traveling, gardening, working out and just plain being together.

What's important is always being happy, always having friends and family around us to create a wonderful home life together and with others.

We cherish the holidays celebrating Christmas, Easter, Mother's Day and others surrounded by family and we love birthday parties and we always theme them together!.

We are so excited to have another child in our family - it's what we are now waiting for.
My Home
We are fortunate to have a home in northern NJ, near New York City and a beach home at the NJ Shore. Our homes are in quiet, beautiful, safe neighborhoods with lots of children. Each home is decorated in modern style, has plenty of space to play, have wonderful family dinners or just relax and read books.

The beach is particularly nice as each summer weekend we have friends and family visit and enjoy the ocean, the town and the company.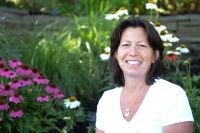 I just love being a Mom and really look forward to having a second child. I learned so much from my Mom who was exceptional in taking care of me and my two sisters. She was loving, kind, caring and yet firm in raising us instilling in us all the characteristics of being a great Mom.

I have worked in advertising for 30 years and have resources to enable our family to live a very nice life - vacations, shows, beach house, etc.