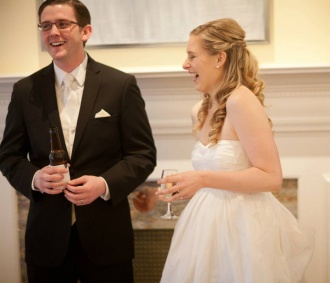 Our Story
We both grew up in Maryland; Matt in the suburbs of Baltimore and Morgan in the suburbs of DC. We both went to the University of Maryland, and though our paths (as we later discovered) crossed many times, it took until March of our senior year to meet. But as soon as we met we both knew that we had found the person we wanted to spend the rest of our lives with. We were married three years later, and welcomed Gabriel into the world three years after that (after some fertility treatments). Gabriel is now two years old and astonishing (and exhausting) us with how much he grows and learns every day. Now we want nothing more than to give him a brother or sister, and give ourselves a daughter or another son to love and experience the joys of life with.

Our family and friends are just as excited for us to welcome another child into our lives. We are lucky to live close to both of our extended families. Morgan's family is especially large, as she is the oldest of 8 children, and her mom one of 7. This means that there are always birthdays and holidays where grandparents, uncles, aunts, and cousins get together to have fun and create memories. Matt's family is smaller, but no less involved. His brother and sister in law live just a few minutes away and they visit their nephew often. We have annual crab feasts in the summer and Christmas parties in winter with Matt's extended family and family friends. Both sides of the family have so much love to share, and would be thrilled to have another child in the family to dote upon.

We have been lucky to find an amazing group of friends over the years, many with children of their own - ranging from infants to toddlers. Morgan and Gabriel have a busy social calendar, with many playdates, swim lessons, and gym classes. We like it best when we meet up at a park with all of our friends and the kids get to run free, explore, and make memories!

Our Home
When we bought our home, we knew it was our forever home. Four bedrooms would give us plenty of room to grow a family, and we have a perfect living and playroom (which friends joke looks like a daycare). We're on a corner lot with lots of grass to run and play in. We learned just this year that the small hill our house is on is perfect for young children to sled on (as Gabriel had a blast doing one our one and only snow day of the year).

We live in an amazing neighborhood, full of families and a strong sense of community. Everything you could want, including schools, are within walking distance. We particularly enjoy the pool in the summer, playground, and taking walks by the creek.

Living in Northern Virginia means that we have access to all of the history and culture that help make up the Virginia, DC, and Maryland areas. We are just a short drive away from so many interesting places - our favorites being the National Zoo and the Air and Space Museum. During the week, Morgan and Gabriel go out often with mommy and toddler friends to parks, nature centers, indoor play areas, farms, and more.

Please check back soon for updates.
Please check back soon for updates.