Our Story
We met online but in a time when there was no Tinder, so no swiping! Simona was still living in Italy then but spending a lot of time in New York for work, so she put up an online dating profile here. We had our first date in April of 2013 at a Korean restaurant near Dan's place downtown in the Flatiron District. Exactly three years later we got engaged at the dog park next door, with Ugo delivering the ring.

In between, we went on many journeys. Some brought us far away – back to Italy and to the beautiful beaches that are Simona's happy place. But the most important ones brought us closer together. We discovered how much fun we could have together just watching our dog run and play. . . and how much comfort we could bring each in moments of pain and disappointment. We took our time, but we ended up exactly where we wanted – with the love and friendship we had been waiting for.

We approach life as an adventure and one of our favorite things to do is to travel. We love exploring new places. This summer Simona will be taking Dan to the Greek Islands for his first time. Next on our list is the Utah desert.

We also like visiting familiar places that have special meaning to us. In the summer we usually spend two weeks at the beach in Italy. Simona has so many fond memories of her childhood of being around the sea, building sand castles with other kids, playing in the water, just being free. We are already thinking about the day we will teach the baby how to swim!

When we are not on the road, we like to take advantage of all the fun, stimulating things that New York has to offer. We love a good story and see lots of movies, concerts, Broadway shows together. Simona is very fond of classical ballet. She always jokes that she would love to have a little ballerina to raise and to take to class, buy ballet clothes and fix her hair. Dan is still mad for sports – he especially likes going to Citi Field for Mets games. He literally can not wait to have a baby to bring to sport events with him.

But we are every bit as happy to spend a sleepy morning in bed with our furry beast reading the Sunday New York Times or a rainy night on the couch bingeing on Netflix. Our perfect weekend starts with breakfast at the Le Pain Quotidien Café in Central Park, where Ugo plays with other dogs and we talk with parents with kids, imagining when it will be our time to push the stroller. It is such a happy way to start the day!
Our Home
We are lucky to live in a magical place for children on Manhattan's Upper West Side. Central Park is practically in our backyard — one block away from our apartment. It is filled with playgrounds, soccer and baseball fields, tennis courts, nature walks, bike trails, boat trips, and one of the best merry go rounds you'll ever ride. The world-famous Museum of Natural History — home to an amazing dinosaur collection and the "Night at the Musem" movies — is also right around the corner. So is Lincoln Center, which features all kinds of special theater, music, and movie programs for kids.

There's also a Children's Museum, another terrific park with more tennis courts and playing fields nearby, and a kid-friendly bike trail a few blocks away on the Hudson River. We also have some of the best schools — public and private — in the entire city. And our block just happens to host one of New York's best Halloween parties of the year, with families coming from all over Manhattan to trick or treat and see the crazy creative decorations on all the brownstones. The rest of the year our block is quiet, leafy, and home to charming Episcopal church with a beautiful new garden.

It's no wonder our neighborhood is chock full of families from all over the world with happy kids and doggies — and why we chose to live here. It's one of the most wonderful, welcoming places you could imagine to raise a child.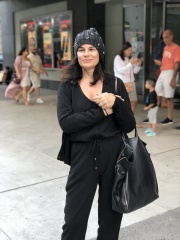 My wife is a wonderful mix of passionate, caring, strong, and brave. One of the things I admire most about her is how she is always open to new experiences and ready for adventure. In fact, when she was 28 she decided to leave a career as a medical researcher to pursue the dream of becoming a writer. She worked extremely hard and made herself into a widely respected journalist for one of the most prestigious magazines in the country. Then she took the leap to move to New York on her own (and I am so lucky she did!). Another thing I really admire about her is her character — she holds herself to high moral standards and always strives to treat people with decency and respect. She is committed to passing along these same strong ethical values to a child we are blessed enough to care for. She is also committed to sharing her sense of openness to the world — she is excited to raise a bilingual Italian-English child!
One of the first things people notice about my husband is he is super smart and knowledgable about lots of things. He teaches me stuff that I don't know every day. He is also very curious and, like me, loves to explore and learn more about the world around him. But the people who know him best see that he is a caring, loving, honorable man, what I would call a really really really good, solid guy. That's what I admire most in him -- his absolute absence of malice and cynicism. He believes the best about people (and animals too!). Sometimes I joke with him that he is too nice! He is a also very loyal friend — he has lots of them all over the country and he really works at staying in touch with them and maintaining their connection. I should know — we are best friends and he is devoted to taking care of me and making me happy. For all these reasons I am sure he is going to make a great dad. It's something he's wanted for a long, long time — to have a son or daughter who he can teach, inspire, protect, love.