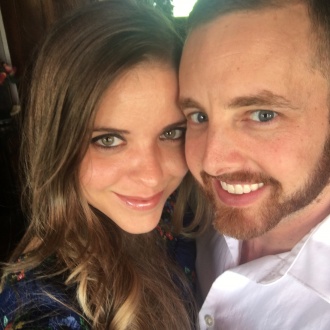 Our Story
We met at church. Barbie had gone there for years and worked in the youth and the drama ministry. Darrick became a Christian at 25 and knew he wanted a "good church girl". He had his eyes on Barbie from the start because of her passion. She thought he had a great smile and was incredibly caring. A year later he proposed in front of the whole congregation (700 people!). Considering his shy disposition, she was shocked he did it in front of everyone.

We have chemistry and still have that "spark". We're best friends. We've been married for nine years and we never grow tired of each other. We never will. We love being at home with our son and having family time. Twice a month we'll let a grandparent watch Atticus and we make time for each other. Atticus loves it too because Nonna and Pawpaw have a pool, dogs, and horses.

We are both physically active and healthy (Darrick is a certified personal trainer). We love good food, travel, friends, and family. God, our marriage, and our children will also come first. Not only are they priority, but we're truly happy with those things alone.

We started our adoption journey after trying for biological children first, but we know Atticus was destined to be ours from the start. We're thankful for the struggle that led us to him and his future siblings. We love him so much it hurts. There is absolutely no difference in the love we have for him and the love we would have had for a biological child. There is no void other than the fact that we want more than one child. We're happy to embrace adoption. We always say that or children came from our hearts, not my womb.
Our Home
We own a three bedroom ranch home outside of Cincinnati. We're in a sub-division where children ride bikes around and families walk around every night, and there is a park right next to us! We are five minutes from a huge amusement park as well. The schools in our county are all really good and there are a ton of things to do. In the summers we drive to the next town over to eat ice-cream and walk the bike trails, exploring the creek along the way. There's a police station the next street over from us and the crime is almost non-existent. Our neighbors are friendly and we're close to movie theaters and shopping! Also, multiple hospitals that we hope we don't have to make trips to.
In addition to our house, we spend a lot of time at Darrick's parents who live on a farm. Atticus loves the pool and horses!
Barbie is an incredibly devoted wife and mother. Everyone says she glows when she is with Atticus. It's not just about nurturing and giving him what he needs, she makes sure they have a blast every day. She wants her kids to have the best childhood memories. She's patient and loving when he has a bad day. She's fun and silly to make him laugh, and she puts him first in everything. She will be the same way for baby number two. Her kids will be the most loved.
Darrick is an amazing provider. He works hard, but never chooses work over family time. He's always been that "cool uncle" type that children flock too, and his son shreaks with excitement when he hears his daddy pull in. He's soft spoken and kind, at all times. When he asked Barbie's Dad for her hand in marriage her dad said yes because he knew Darrick would always make right decisions for his family and treat them like gold. The kids will always have a roof over their heads, plenty of food, and endless attention and support from an amazing dad. And if the baby is a girl, he's a perfect example of how a man should treat a woman. His love for his wife is tangible!