Our Story
Fun Facts to Know About Us:

1. We met on match.com 9 years ago. Maggie's friend signed her up as a joke, but the joke was on them when she met Curtis! It is still funny to us that we met online, but it obviously worked out so well that we are back online hoping to meet you!

2. Our guilty pleasure is hot wings. We eat hot wings almost every weekend when watching college football. Go Trojans!

3. We are embarrassing. We have family dance parties at night to The Greatest Showman soundtrack with our kids and we are so dorky. But we'd do anything to make them laugh and have fun!

4. We serve as High School leaders at our church together, leading bible studies, going to camp, and throwing fun events for them. We go from deep conversations to skit night flawlessly, all while, yes, embarrassing ourselves to show them love.



We know this isn't really about us, but what life you desire for your child. We know you desire your child to be loved, cared for, protected, and kept safe in a happy and fun household. We know these are the desires of your heart because we are experienced parents and we have the same hopes and desires. We personally know what it means to cherish and love children, because that is what we do every day. The biggest compliment we get is when others tell us how well-behaved and sweet our children are. They truly live happy and healthy lives! We want to give the gift of a loving, stable family to a child so they can experience a full life.


Thank you for reading about our family and considering us to be adoptive parents for your baby. From the bottom of our heart we want to thank you for choosing life for your baby. We can only imagine how overwhelming this is for you. We would love to continue this conversation with you in hopes to bring you peace and assurance. We genuinely care about you BOTH.


Our Home
We are thankful to be blessed financially so we can give our children the life we desire for them. Our home is in a safe neighborhood in Southern California with a great Elementary school right across the street. Your child would have their own room that is already set up for them. It is pink now, but we can make it blue quickly if needed!

Curtis has remodeled almost every room in our four bedroom home. Our children enjoy playing in our backyard and playing at the park down the street. Because we live so close to our elementary school, there are tons of families with young children in our neighborhood. We love living in California and enjoying the beautiful weather year round. We can't wait to share it with another child!
Written by Maggie:

Curtis is a hard worker in all aspects of his life. He takes the time to really care for all of us individually and still calls his mom and sister daily. He is a loyal friend and I am thankful I get to call him my best friend!

What I love the most about Curtis is his quick-wit. He causes the majority of the laughter at our family gatherings. Not to mention, he is crazy smart! The kids play a game where they ask him how something works, and he tells them. Who knows how a TV works? I don't, but he does!

Most importantly, Curtis loves the Lord and joyfully serves him by serving us. I mean, he even does the dishes because he knows that's my least favorite household thing to do! Life with him is fun and never dull. I couldn't ask for a better husband and father for our family.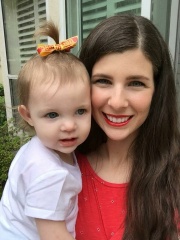 Written by Curtis:

Maggie is everything you would expect a mother to be. Seriously, there is a running joke that she is the "baby whisperer." She can make any baby stop crying within seconds of holding them. Maggie has such a nurturing and caring personality, yet she makes sure our kids have structure and boundaries.

One thing that always impresses people about Maggie is her intelligence. She is extremely smart and can win almost any argument using impeccable logic and reason. Her ability to articulate any problem and solution objectively is incredible.

Maggie is also an amazing cook. She refuses to follow recipes and somehow what she makes is always the best thing I've ever tasted! But most of all, Maggie has a servant's heart. I love watching her pour herself into our family and the high school girls that she leads at church. I am blessed to call this compassionate, generous woman my wife.