Our Story
We are Andy and Alicia and we have been married for 9 years and together for 13. We met while we were juniors in high school and started dating right after graduation. We have built our relationship on friendship and both feel blessed to be married to our best friend. Even before we discovered that conceiving on our own was going to be a problem, we considered adoption. As it became evident that we were not going to be able to have a child on our own without medical intervention, we decided to move forward with adoption. Adopting our son was one of the biggest moments in our lives thus far. We are so excited for the addition of another child to complete our family!
Our Home
Our home is in the country in central Minnesota. We are blessed to have 20 acres of land so there is no shortage of room for our children to run, play and explore! Though we live in the country we do have one neighbor nearby who also have children. They are often over to play in our sandbox or with the swing set and enjoy running between our yards with the dogs. We enjoy taking four wheeler rides on the trails that Andy has made on our property and planting a big garden each spring.
Alicia about Andy:
Andy is very loving, fun and sensitive. I admire his ability to show patience for everyone and everything he does. He truly loves life and lives each day to the fullest. It does not take long to see past his tough exterior to see he is truly a softy! He is always purposeful in his words and actions and is always willing to help anyone in need. Andy is a hands on dad who loves to have Levi tag along on any adventure. I love him so much for the man he is and am excited to see him continue to grow as a parent with the addition of another child.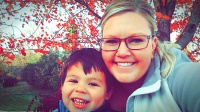 Andy about Alicia:
Alicia is one of the strongest people I know. Her ability to persevere through any situation always amazes me. I admire her ability to help people in need and the joy she finds in caring for her patients, family and friends. Alicia is a great mom and I love watching her with Levi. She has a way of guiding him to help him learn that I admire. The love that I have for her has grown every day, and I can't wait to see her become a mother again.