Our Story
We met at a mutual friend's birthday party and hung out with friends all summer enjoying game nights, karaoke, and trips to Sonic! We both grew up in a rural area and we bonded over our faith and family being our most important priorities. We love watching and playing sports! We still tease each other about one of our first games of touch football and how we gave the game all we had! From the day we met, our journey together has been full of laughter! After dating for two years we became engaged and were married 6 months later at our church. We have been married five wonderful years! We give thanks to God for our blessings and we place our trust in Him during the difficult times. We work very well together as a team and are quick to say I'm sorry to each other if forgiveness is needed. We love going to the coffee shop, browsing through bookstores, and even playing old school video games---like Dr. Mario. Our time as a couple has been remarkable; now we are ready for the amazing journey of parenthood. Our lives overflow with love and we know this love will abound even more as our family grows!
Our Home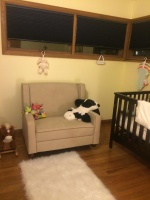 Our home is cozy and comfortable. We have so many memories there and look forward to making many more as a family! The best part about our home is that we live close to both of our families. Our child is already loved by us, but also by his or her grandparents, aunts, uncles, cousins, neighbors, and friends. We live in a small, midwest town on a large corner lot with shade trees. We even have a treehouse with a swing that is just waiting for our little one to enjoy as they grow up. As a former kindergarten teacher, I have accumulated a huge children's library and we have a carpeted area in the basement with toys and games. We live near a park and can't wait for walks with the baby in the stroller! Our nursery has a comfy double rocking chair where we often sit and think about our baby and pray for him or her and you. We know this room will be the most important room in our home once our baby arrives! It brings a smile to our face and warmth to our hearts every time we peek in to dream about our growing family!
Phillip is already the best example of a father when he interacts with our nephews, nieces, and friends' children.
He is a hardworking man, but at heart he still has the joy of a child! Minutes after we were married he was playing the toy xylophone in the church nursery! He will be so honored to have a little buddy around to take fishing or teach how to play chess. We joke now that Kara will be cooking supper and Phillip and our child will be playing video games in the office! Phillip is a history buff and will teach our child fun facts and trivia. Every trip in the car he will probably quiz our child about presidents or states or other historical facts. Phillip will be the rock of the family as he is patient, level-headed, and always looks out for the best for everyone. He has already talked about the sacrifices he will make to insure our child has a Christ-centered education and whatever they may need to pursue his or her dreams. Our greatest legacy will be passing our faith down to our children and Phillip will no doubt make that a priority! Plus our kids will crack up at his monkey sounds, Mickey Mouse voice, and silly dance moves!
Motherhood has been Kara's dream ever since she can remember! Early in her teaching career, a student asked her what she wanted to be when she grew up and her reply was "a wife and a mother". Kara has a knack for making even routine tasks or activities a delightful adventure. She will embrace parenthood with a fervor and enthusiasm. Kara is kind, compassionate, and has a grateful manner about her. She creates games, rhymes, or silly songs to get kids to laugh. She lovingly guides children when they need direction and speaks calmly while giving patient explanations. Kara grew up on a farm so she loves animals, especially cows! She enjoys reading and looks forward to Baby Lapsit and Youth Storytime at the local library when she is a mom. She has also been reading books on caring for babies and asking her friends lots of questions. Kara likes to take walks and roller skate, trying to keep in shape. (Carrying a carseat or chasing a toddler take a lot of energy!) She loves to plan surprises and maintain family traditions. She has taught Sunday School for several years and prays that when she becomes a mom, her former students can teach her children one day! Kara's daily prayer is Lord, in your perfect timing and gracious will, make my husband and I joyful parents to a happy child!