Our Story
We met through work years ago. We became friends and that turned into a relationship. We have fun together, we laugh a lot, and our goals for the future seem to align.

We have been together for over 6 years.

We enjoy watching sports together and activities as a family. We have a sweet black lab dog named Skye who loves running around the back yard with our daughter.

We are a great balance to each other, and we love being parents more than anything.

We look forward to welcoming another child into our lives.
Our Home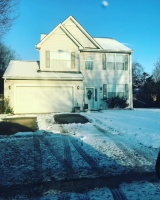 We have a nice home in a quiet neighborhood. We have a fenced in back yard and a play set. We have a play room on the first floor and 3 bedrooms upstairs. Our guest room will be converted into the new baby's room right across the hall from our room.
I was born in Norfolk, VA and have 2 brothers and a sister. My family lives within minutes of our home and visits often. I am also a sports fan, though most of my teams differ from Ricky. I am a Dallas Cowboys, New York Yankees, and Washington Wizards fan. I am an Associate Director for a non-profit Association Management firm where I have been for over 3 years. I am close to my family as well and have 5 nieces that live just minutes away. Emma and I have mommy/daughter dates often and love to snuggle up and watch Disney movies together.
I was born in Lima, Peru and I am fluent in English and Spanish, which I teach to our daughter and plan to do the same with our next child. I am a big sports fan, and love all Washington D.C. sports teams, Redskins, Nationals, Wizards and Capitals. I attended Penn State University and now work for a large telecommunications company where I have been for over 10 years. I am very close to my family and have 2 brothers. Since my mom lives about 3 hours away, we have Sunday morning phone calls every weekend. I have 3 nieces and 1 nephew whom Emma loves visiting and playing with. I love being a father, and I look forward to the daddy/daughter dates with Emma. We laugh a lot, and play hide and seek, sing in the car, and paint a lot.