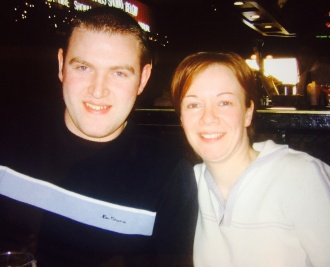 Our Story
We met in 2001 in a steakhouse in New York where I worked. It was love at first sight for Gary! Every Saturday night he came to the steakhouse with his friends. He was always so nice, quiet and kind.
Then one day 24 beautiful white long stem roses came to the restaurant. The waiters were all excited "Annmarie they are for you... I said "Yes, right, haha... I said they are for the private party room tonight"... However I was wrong! They were from Gary with a simple note "Annmarie- Thinking of you - Gary". That's when I said " I must start spending some time with this guy". ( I still have the note! )
Our first vacation was to San Francisco. We absolutely loved spending time together and we had alot in common being from Ireland. We loved adventure, talking, laughing and making plans.
2 years later we got engaged in Washington. I knew Gary had bought the ring ( because I picked it) but I didn't know when I was going to get it. We spent 4 days in Washington and no sign of a proposal! I figured it wasn't the right time. We ate in the nicest of restaurants and his favorite ' a steakhouse' and still no sign of the ring. We were packing to go back to New York when all of a sudden he got down on one knee and proposed!! He had meanwhile carried the ring all around Washington for 4 days waiting for the perfect moment! ( He had brought the ring onboard the plane in his shoe ).....
2 years later we got married in Ireland. We had a wonderful wedding. We got married in a castle. Gary and I live 3 hours apart and over 100 of his family and friends travelled to where I lived. They spent 3 nights and really enjoyed it.
We went to Italy on our honeymoon. We travelled to Venice, Rome & Sorrento. Our favorite place was Venice. We thought it was the most beautiful place. Beautiful canals, gondolas, no cars or pollution. It really was spectacular.
Hopefully someday we will get back and show your child one of our favorite places....
Our Home
We live 10 Minutes from Manhattan in a tree lined residential area. We own our home and have been living here for 10 years. Gary works in construction and he completely renovated our home. We have an outdoor patio area to the front and a back garden. We cannot wait to decorate the baby's room and share our home with your baby. We have a newly built elementary school on our street for Pre-K to 5th grade. There are several beautiful parks within walking distance to our house.
I was born and raised in Ireland. I have one older brother James and one younger brother Michael & sister Breda (twins). We had a wonderful upbringing. We grew up on a farm surrounded by 40 acres of land so spending time outdoors was very important to us. Our parents gave us everything we wanted and we were very respectful towards them.
We all helped on the farm - it was a dairy farm with lots of cattle.
Every Sunday when we were young we would play football in our field and all our neighbors would join us. About 30 children would be in the field and my mother would bring us juices, crackers and candy.
My paternal grandparents lived with us and they were wonderful people. We always celebrated Christmas, Easter and holidays.
We attended church every Sunday and we recited the rosary together every night.
I have such happy memories of my childhood...
I went to college in Ireland and graduated with a Diploma in Hotel & Catering Management. I worked in France, Guernsey in the Channel Islands and in several hotels around Ireland. I always wanted to live in New York (My mother had spent 14 years in New York before she got married so I guess it was in my blood) so when an opportunity came as a Food & Beverage Manager in Manhattan I jumped at the chance. I have been living here since and absolutely love the freedom and opportunities New York has to offer.
And of course it is where I met Gary!!




I was born in Ireland and I was brought up with 2 sisters. I was the oldest. My mother worked in a local Post Office for years but has since retired. My dad worked as a welder.
I had a great childhood. I was the only boy so of course my mother spoiled me! My parents were very supportive. I played alot of sports particularly Gaelic football. I was always very athletic.
I was always interested in carpentry. I graduated from Technical College in Ireland with a Diploma in Carpentry and immediately got a job with a local Carpentry company.
After 4 years working for them I decided to go to New York and immediately got work. I love what I do and I am very dedicated to my work. I am a perfectionist and attention to detail is very important in my work.
I met the love of my life in Manhattan and I go to work everyday for her but we are missing one big part in our lives and that is a baby to love and cherish...