Our Story
Through the years we have learned many life lessons. There has been highs and lows. We have learned about the many sides of adoption...the losses, the waiting, the being scared, the unknown, the rewards and the afterwards for everyone involved. Our family has had a long journey to get to this point of adopting our second child. We knew we wanted a family from the start. We experienced three different types of miscarriages, one was the worst scenario imaginable, an ectopic pregnancy (it was a life threatening situation for Niki, Billy and our family feared the worst for her) along this journey to creating our family. After many doctor appointments and much probing, poking and tears we came to accept that biological children would not be. We did a lot of soul searching and our hearts led us to the path of adoption to build our family. Throughout our losses and soul searching we grew stronger as a couple, really valuing how precious life is and our commitment to each other as well as our future family. We can say that we have experienced firsthand how wonderful adoption is and we believe with our full hearts that adoption to grow our family is God's plan. We are sorry for any grief you are experiencing in your role on making this very sensitive and difficult plan. We cannot possibly imagine how you the expectant mother must feel on the other side of this process and reading all these profiles, it must be emotional and extremely hard to know that you are selecting the right family and making the right choice for your child and yourself. For us it is emotional as well, having so many concerns for everyones feelings and their personal well being, not only today but in years to come. When you are ready to parent and it doesn't come when you want it to, the waiting becomes wearing on you. We check our phone, and email every day waiting to see if we have been chosen. Wondering what is wrong with us if an expectant mom is not reaching out. We know that this is not simple decision making and most likely the hardest life changing choice... but we strongly believe however things are meant to be, they will be. How God intended for everyone involved. Together we will become a triangle of faith, with the child (children) at the highest point, the birth parents at the beginning point, and us the adoptive parents forming the third point to complete this amazing and blessed shape. This is are story... a regular couple with a dream of having a full family and carrying on the traditions and values that we know.
Our Home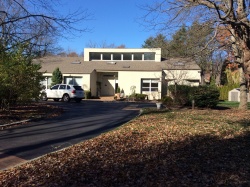 Our house is one where everyone gets together for holidays and for hanging out on the weekends. We cherish quality times with our family and friends...any chance to be together and have fun! Our backyard is perfect for outdoor playing, there are so many kids in our neighborhood there is never a shortage of playdates! We have enough bedrooms for each child to have their own room. Where we live in the suburbs of New York, it is close enough to take advantage of city culture, like museums and Broadway shows but also we have outdoor activities like the beach! Alexa and the brother or sister she welcomes will enjoy playing at local parks, beach trips and days spent in the city, for years to come.
Billy is a big kind teddy bear! He is playful around the house and gets us all to cuddle and watch movies. He is also our families book of knowledge! He knows lots of trivia & fun facts, and usually is the winner at board games and activities. Bill is stable and successful in business. He enjoys sharing his passion for sports with Alexa and the little brother or sister we hope to welcome... for sure throughout life he will be their biggest fan!  Billy has all of his original friends from childhood and that friends list continues to grow by many along the way. Anyone who meets him would tell you that he is a loyal, generous, good person. Billy carries over valuable lessons from sports and applies it to our daily life... being a leader, team player, and loyal person. He definitely will be involved with coaching and teaching our children, in sports and in life!
Niki is extremely thoughtful, she is a good listener and problem solver who equally loves to be silly, laughter is her best medicine! She reads books, plays indoors and outdoors and does art & craft projects with Alexa (they cannot wait to share these times with another child) who we are all eagerly waiting to welcome into our hearts and home. Niki has a very genuine personality she is sincere and honest, anyone who knows her, knows how much she really cares. Niki wears her heart on her sleeve and gives to everyone around her. Professionally her career for many years was based on helping women look and feel their best. She stands by "giving back and paying it forward". Niki has done a lot of fundraising for breast cancer awareness. Today she is super comfortable in her next chapter nurturing and raising children; and is very dedicated to her families wants and needs. Her best role yet, helping mold our sweet daughter who came to us through adoption into the amazing girl that she is. Niki has a huge amount of love in her heart and will love our second child unconditionally".