Our Story
Every day we are learning from one another, appreciating the other's unique perspective on the world, and making each other laugh!

We met during medical school and quickly became friends. Our first day together was an early morning hike and soon afterwards we were inseparable. We've settled in Portland with our beautiful home, medical practice, and our dog, Max.

After over a decade of friendship and marriage, learning we couldn't have a child together was still a challenge. Thankfully, our years of mutual support and shared vision lead us to adoption. We both grew up in big, extended families so we're committed to creating a home based on spending time together and celebrating each other. We're looking forward to sharing our hobbies, nurturing a child's interests, and creating memories together and with our extended families.

We've already had quite a journey together and we're excited for whatever the future holds for all of us!
Our Home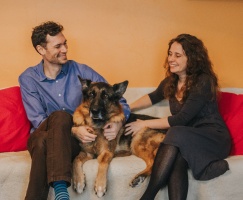 Our home is our happy place.

We've worked together to make a space that is comfortable for both of us. It's colorful and cozy. Welcoming and private. Our living room, dining room, and kitchen share one long space, which is great for having guests. And we have space to host our friends and family when they visit.

Shay is great at home repairs – he built our beautiful dining room table - and Eva loves gardening. She even preserves the apples and figs from our fruit trees! Our street is in a friendly neighborhood, just blocks away from a park, playground, and open space. We walk our dog Max there everyday. He loves playing with all the kids, and they love him!
I grew up in the Czech Republic among my extended family. A few summers ago, my nephew visited us and Shay taught him how to skateboard in just a few weeks. It's those qualities about Shay - his warmth, willingness to teach, and patience – that I love about him.

When I imagine being a parent, I envision sharing my love of the outdoors – through hikes, trips to the beach, and gardening – and my wonder for the everyday – through reading, crafting and baking. It's my hope that I can support a child to see and pursue the potential for good in the world.
Growing up in Sacramento with my mother – who's from Alabama – and my Persian father, gave me an appreciation for differences among families and neighbors. That's part of what drew me to Eva, but what keeps me close is her ability to see the magic in the everyday. She's also great at creating structure – I remember how Eva was able to channel her young niece's energy into activities that they both enjoyed.

My dream as a parent is to teach them the kinds of things my father taught me - like sports and how to change my oil - so they can grow knowing how to work hard and be independent. The world has many opportunities to offer and I want them to feel confident pursuing their own lives. Wherever they go, and whatever they choose to do, I want to be shouting my support from the sideline.